Near Term
Last Updated: 9:30am Tuesday, February 20th, 2018 by MP

Near Term (through tonight)
Strong upper-level ridging over the region will lead to some unseasonably mild temperatures by this afternoon. First low-level inversion with abundant moisture and very light winds near the surface, has been resulting widespread areas of patchy or dense fog with visibilities ¼ mile or less since the overnight hours. But as of 9am visibilities have rising in most sites. Visible satellite imagery also shows breaks in the low cloud cover. This inversion is beginning to mix out. So we anticipate more sunshine to gradually mixing with some mid-high level clouds during the late morning and afternoon hours.
There is some uncertainty with high temperatures today due to amount of cloud cover. But if there is enough sunshine, 850mb temperatures between +10 to 12 C and southwest winds will support high temperatures mid-upper 60s to perhaps around 70, away from the coast this afternoon.. Along the south-facing shores, especially over Long Island and Connecticut, more marine influence or sea-breezes will likely keep high temperatures in mid-upper 50s to lower 60s. Nevertheless these temperatures are 15 to 25 degrees above normal for this of year. Thus record highs at the climate sites are in jeopardy today.
Mild conditions continue tonight. More low clouds, and areas of fog and drizzle will being returning again with as warm-air advection increases and nocturnal inversion increases. Patchy, dense Fog with reduced visibilities ¼ mile or less is possible. But a stronger low-level southwest flow, may prevent more widespread patchy or dense fog for tonight. So we haven't highlight this in hazards yet. Temperatures will likely hold mostly in the 50s overnight. Along south-facing shores, colder waters offshore, may lead temperatures may dropping into the 40s early this evening, before rising back into 50s, with increasing warm-air advection.
Short/Long Term
Last Updated: 11:30am Tuesday, Feburary 20, 2018 by MP

Short/Long Term (Wednesday through Thursday)
A strong ridge centered off Southeast US will be will bring more unseasonably mild weather on Thursday. Low-level inversion should mix out again tomorrow. So low clouds, fog and drizzle should in the morning should gradually give away to more sunshine during afternoon hours. Again, high temperatures will depend how much skies clear. But feel stronger southwest flow, just ahead of cold front approaching from the west, will help skies will brighten or clear little quicker than today. Also 850mb temperatures will be warmer around 12 to 14 C. So temperatures the upper 60s to lower 70s away from the coast. If there more sunshine temperatures mid-upper 70s are not of the question, especially over Central NJ south. long south-facing, cooler temperatures in the 50s or lower 60s are expected again, with more marine influence or seas-breezes.
The cold front moves through tomorrow evening. Dynamics with this front aren't impressive. But there will be enough moisture with pwats increasing to 1.00" and greater for chance of some scattered showers. Then this front push south across the region, as backdoor cold front with more onshore, northeast winds bringing a Canadian Maritime airmass over the Northeast.
Mid-level shortwave will induce a wave of low pressure along this front over the Northern Mid-Atlantic region Thursday. Meanwhile high pressure to north will continue to support low-level cold air to drain into over parts of the Northeast. So will watch to watch for some wintry precipitation over the Interior areas. At this time model show enough warm-air aloft for sleet/freezing rain to be main wintry precipitation types. Elsewhere, mostly light to moderate rain is expected. High temperatures will be much cooler in the 40s. More to come…
Extended Term (8-14+ Days)
Last Updated: 10:30am Saturday, February 17th, 2018 by MP
Extended Term (beyond Friday)

Overall progressive pattern is expected to continue into the late month, with lack of high-latitude blocking and riding over the Eastern Pacific. The remnants of the -EPO in the North Pacific could still lead to some cold shots. However deeper -PNA pattern will continue to support a stronger southeast ridge to develop with more southwest flow. Thus temperatures are likely to be average above normal over much of the Eastern Us, through the end of month.
Then some pattern changes are expected during the first 10 days of March in the aftermath of the polar vortex to split down to troposphere. This will result in the NAO going negative with more high-latitude blocking retrograding from over the UK/Iceland into Greenland/Davis with a 50/50 low and confluence underneath over Southeast Canada. This pattern weaken the Southeast ridge  by the end of this month and support more cold shots and wintry precipitation threats for the Northeast US.
However there is some model/ensemble disagreement on how strong or quickly the MJO will be propagating through phases 8 and 1 at the end of this month into early March. Thus there is some uncertainty how favorable the Pacific pattern, which is being influence by the -AAM/MJO progression will be in the longer term for more major cold and snowstorms along the East Coast.

Good evening!  It certainly has been a wild swing of events over the past week or so, with above normal temperatures, a snowstorm, and now the potential for some record breaking warm weather later this week! This will likely be a gradual process, with the first major changes taking place during this afternoon and evening. […]
https://www.nymetroweather.com/wp-content/uploads/2018/02/header.png
841
1111
Steven Copertino
https://www.nymetroweather.com/wp-content/uploads/2017/04/oldlogo.png
Steven Copertino
2018-02-19 18:40:18
2018-02-19 18:40:18
Potentially Record-Breaking Warmth and Unsettled Conditions Take Hold Over the East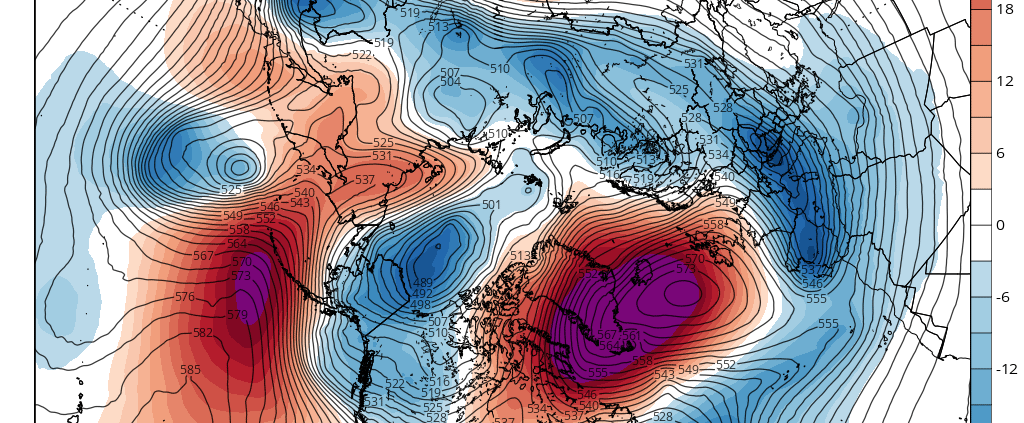 And you thought the worst was over. For the past few weeks, we've been chatting both on our blog and internally with enterprise clients regarding the development of a Sudden Stratospheric Warming event (SSW). In laymen terms, this occurs when a rapid temperature rise occurs in the Arctic stratosphere. In this situation, the stratospheric polar […]
https://www.nymetroweather.com/wp-content/uploads/2018/02/ecmwf_z500a_nhem_11.png
1000
1024
John Homenuk
https://www.nymetroweather.com/wp-content/uploads/2017/04/oldlogo.png
John Homenuk
2018-02-18 19:53:52
2018-02-18 20:13:08
Wintry pattern expected to return by early March

Good evening! Today has been yet another in a string of warmer and unsettled days across the Northeast, with light to moderate rainfall training over portions of the Mid Atlantic and Northeast. Today's rain was part of the same strung-out and progressive upper level energy that was responsible for the heavy rain and flash flooding […]
https://www.nymetroweather.com/wp-content/uploads/2018/02/aso.png
924
1669
Steven Copertino
https://www.nymetroweather.com/wp-content/uploads/2017/04/oldlogo.png
Steven Copertino
2018-02-16 19:09:37
2018-02-16 19:09:37
Quick-Hitting Snowstorm Likely for Portions of the Northeast Saturday Night