Near Term
Last Updated: 10:30am Saturday, February 17th, 2018 by MP

Near Term (through tonight)
Canadian high pressure will begin sliding offshore today. Sunshine this morning will give away increasing clouds this afternoon and winds will become light out east-southeast. High temperatures should reach the mid-upper 30s, perhaps around 40 near the shore.
A robust shortwave trough moving quickly over Midwest and Ohio Valley today, will be partial phasing with some southern stream sheared-out shortwave energy tonight. This will cause another wave of low pressure will be forming along the cold front stalling over the Lower Mid-Atlantic region today.  The pattern continues to be progress with semi-zonal flow and a lack of  high-latitude blocking. However enough height rises with the Southeast ridge, will actually help this shortwave trough amplify a bit before reaching the Northeast US.  The GFS is likely shearing out the wave underneath tropospheric  polar vortex swing south over Hudson Bay. So prefer more amplified NAM, GGEM, ECMWF solutions with precipitation spreading northward late this afternoon and evening, under the right entrance region of a strong upper-level jet over Northern NY/New England.
Temperatures will cold enough aloft for snowfall. But as high pressure departs into Atlantic, winds will becoming more east-southeast. This may create some boundary level warmth for a mix of rain and snow at the start for coastal areas. But as the low moves offshore, more north-northeasterly winds with colder air, allow for change over to all snow before ending. The question on when this changeover will happen. If more low to mid-level frontogenesis occurs,  moderate to heavy snowfall rates and dynamic cooling will support a faster changeover to snow. This solution has the most support from the 3km NAM, HRRR and RGEM/HRDPS, along or just NW the I-95 corridor, including parts of NYC and PHL.
At this time, we anticipate 3″-6″ for many areas, especially along the I-95 corridor and about 50 miles NW. There is potential for 6″+ snowfall, with the best chance, just inland or northwest of the I-95 corridor away from more marine influence. However, amounts may start lower over the northwestern most areas of Northwest NJ and the Lower Hudson Valley with less banding and precipitation, farther away from the coastal front and CCB/deformation zone behind this low. Lower snowfall totals are also likely with more mixing and temperatures above freezing along the immediate shores of Long Island and New Jersey.
Short/Long Term
Last Updated: 10:30am Saturday, February 17th, 2018 by MP

Short/Long Term (Sunday through Friday)
On Sunday, the storm system will departing quickly. So any linger precipitation will be mainly over Long Island and New England and should end by mid-morning. Otherwise, high pressure will build back into the Northeast, provide mostly sunny skies on Sunday. Temperature will be a little warmer in the lower to middle 40s, causing snow to quickly begin melt by late morning and early afternoon hours.
A -PNA pattern with deeper troughiness over Western and Central parts of the CONUS, will likely support the southeast ridge to build back next week. Thus temperatures will begin to moderate quickly back above normal with more southwest flow in the Northeast and Mid-Atlantic regions by Monday and Tuesday. Temperatures could reach the upper 60s and lower 70s by the middle of next week, before another cold front with possibly some showers, arrives in the Northeast.
Extended Term (8-14+ Days)
Last Updated: 10:30am Saturday, February 17th, 2018 by MP
Extended Term (beyond Friday)

Overall progressive pattern is expected to continue into the late month, with lack of high-latitude blocking and riding over the Eastern Pacific. The remnants of the -EPO in the North Pacific could still lead to some cold shots. However deeper -PNA pattern will continue to support a stronger southeast ridge to develop with more southwest flow. Thus temperatures are likely to be average above normal over much of the Eastern Us, through the end of month.
Then some pattern changes are expected during the first 10 days of March in the aftermath of the polar vortex to split down to troposphere. This will result in the NAO going negative with more high-latitude blocking retrograding from over the UK/Iceland into Greenland/Davis with a 50/50 low and confluence underneath over Southeast Canada. This pattern weaken the Southeast ridge  by the end of this month and support more cold shots and wintry precipitation threats for the Northeast US.
However there is some model/ensemble disagreement on how strong or quickly the MJO will be propagating through phases 8 and 1 at the end of this month into early March. Thus there is some uncertainty how favorable the Pacific pattern, which is being influence by the -AAM/MJO progression will be in the longer term for more major cold and snowstorms along the East Coast.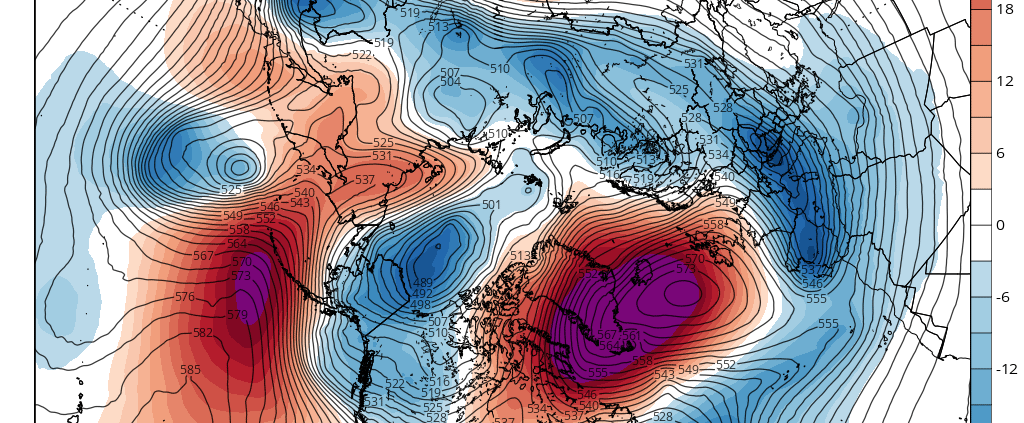 And you thought the worst was over. For the past few weeks, we've been chatting both on our blog and internally with enterprise clients regarding the development of a Sudden Stratospheric Warming event (SSW). In laymen terms, this occurs when a rapid temperature rise occurs in the Arctic stratosphere. In this situation, the stratospheric polar […]
https://www.nymetroweather.com/wp-content/uploads/2018/02/ecmwf_z500a_nhem_11.png
1000
1024
John Homenuk
https://www.nymetroweather.com/wp-content/uploads/2017/04/oldlogo.png
John Homenuk
2018-02-18 19:53:52
2018-02-18 20:13:08
Wintry pattern expected to return by early March

Good evening! Today has been yet another in a string of warmer and unsettled days across the Northeast, with light to moderate rainfall training over portions of the Mid Atlantic and Northeast. Today's rain was part of the same strung-out and progressive upper level energy that was responsible for the heavy rain and flash flooding […]
https://www.nymetroweather.com/wp-content/uploads/2018/02/aso.png
924
1669
Steven Copertino
https://www.nymetroweather.com/wp-content/uploads/2017/04/oldlogo.png
Steven Copertino
2018-02-16 19:09:37
2018-02-16 19:09:37
Quick-Hitting Snowstorm Likely for Portions of the Northeast Saturday Night

Good morning and Happy Friday! As many of us in the Northeast, and especially the Northern Mid Atlantic, make our way to work without a heavy jacket for the first time in what seems like months, the atmosphere is already undergoing a significant transition. Warm, humid air is entrenched in the region right now and […]
https://www.nymetroweather.com/wp-content/uploads/2018/02/Screen-Shot-2018-02-16-at-8.25.10-AM.png
463
1058
John Homenuk
https://www.nymetroweather.com/wp-content/uploads/2017/04/oldlogo.png
John Homenuk
2018-02-16 08:26:41
2018-02-16 08:26:41
Snowstorm increasingly likely in the Northeast this weekend