Forecast models are beginning to come into better agreement on what looks to be a gradual warmup towards above average temperatures to start the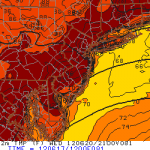 new work week, followed by several days of heat with temperatures over 90 degrees in many locations. A large ridge in the mid levels of the atmosphere and high pressure at the surface is to blame, as a south-westerly flow in the atmosphere will advect in some of the warmest air of this years warm season to date. The humidity will be on the rise as well, with models pinning upper 60's F dew points combined with 90+ F temperatures beginning Wednesday and likely continuing on Thursday and Friday. It remains to be seen exactly how long the heat will last (a typical heat wave around our area lasts around 3 days), before thunderstorms become a threat with any trough or cold front that approaches the heated/unstable atmosphere Regardless, the weather looks to take a summery turn this week. Early-forecast high temperatures for the middle and end of the week (Wednesday) are in the mid 90's with some warmer readings likely inland and a few cooler readings near the shore.
If you're looking to head to the beach this week, we'll have a full forecast out Monday morning. There may be a seabreeze in some locations along the shore during the heat wave – but early indications are that the seabreeze may be strongest on Friday. We'll keep you posted on the best beach days as the heat draws closer.
Comments
comments
https://www.nymetroweather.com/wp-content/uploads/2017/04/oldlogo.png
0
0
John Homenuk
https://www.nymetroweather.com/wp-content/uploads/2017/04/oldlogo.png
John Homenuk
2012-06-17 11:42:21
2012-06-17 11:42:21
Warm up, then heat wave loom this week