Forecast models have come into better agreement on the track and intensity of a storm system, which will pass offshore this Saturday afternoon. A disturbance in the mid levels of the atmosphere will pass from the Mississippi Valley off the east coast, while a second disturbance swings down from Canada and eventually phases with it. As the phase occurs, a strengthening surface low will develop off the coast of New Jersey. Finally, the surface low will swing northeastward to a position southeast of Cape Cod by early Sunday morning.
For the most part, this forecast remains unchanged since the last update. However, with the storm now less than 24 hours away (around 12 hours from start time), we'll break down the timing and snowfall amounts in an attempt to simplify the storm system for all.
Timing: Light to moderate snow is expected to overspread the area beginning early Saturday from southwest to northeast. The snow could be light at times, especially early on. More moderate snow is expected over Western NJ and Southwest NJ initially, while lighter precipitation rates will continue farther to the northeast. By Saturday afternoon, moderate snow is expected area-wide, and snow may even taper off for a time across western zones as the best forcing for precipitation transfers to the coastal storm. Saturday evening, moderate snow is expected to continue, especially across NJ, Southeast NY, and CT. There is the potential for snow to mix with or change to rain along the area beaches, the south shore of Long Island, and Southern New Jersey. Finally, by late Saturday evening, snow will begin to taper off from west to east.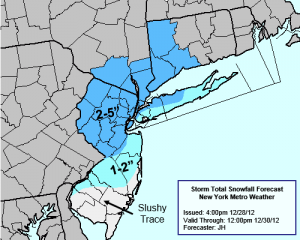 Snowfall Totals: Our latest snowfall map, attached to the left, details the expected accumulations in graphical form. Generally, 2 to 5 inches of snow is expected throughout the entire area, but these amounts will obviously vary depending upon location. The broad 2 to 5 area encompasses much of Northern New Jersey, Southeast New York, and Connecticut. Amounts near the higher end of this scale, with isolated totals near 6 inches, are most likely from Northeast NJ into Connecticut and Southeast Southern New England. Lower amounts, kept down by warmer temperatures and a potential change to rain, are expected near the shores and Southern New Jersey.
Hazards: This is expected to be a light to moderate snowfall event, of low to moderate impact. No strong winds are expected, and the snow will gradually accumulate leaving crews plenty of time to treat/clean the roads. Although the roads will be slippery and icy, widespread travel delays and accidents are not currently anticipated. Nevertheless, exercise extreme caution when driving through snow. Moderate to occasionally heavy snow is possible at times — so be careful if you are traveling.
Technical: Please view our forthcoming evening Forecast Discussion (left side menu) for information regarding potential precipitation shadowing and concerns regarding h85/h7 mid level centers as well as compact cold conveyor belt development. This discussion details our reasoning behind the snowfall forecast.
As usual, we encourage you to stay tuned for the latest on the storm system. We'll be posting up to the minute details on Facebook and Twitter.
Comments
comments
https://www.nymetroweather.com/wp-content/uploads/2017/04/oldlogo.png
0
0
John Homenuk
https://www.nymetroweather.com/wp-content/uploads/2017/04/oldlogo.png
John Homenuk
2012-12-28 16:28:54
2012-12-28 16:28:54
Light to moderate snowfall expected area-wide Saturday