Welcome to the New York Metro Weather Live Blog for the upcoming potentially significant storm system this week. Our forecasters will be available throughout the evening forecast shift to discuss new developments and answer questions you may have. We look forward to interacting with you. If you haven't yet, please see our Storm Alert Brief on the potential.
12:08am: The UKMET model is out, which has consistently been south of us, and it has bumped north, bringing us moderate precipitation. However, it is still not as robust as the other guidance. We now eagerly await the Canadian model, and particularly, the European model. -DS
12:04am: The GFS ensembles are in, and they are still wetter than the operational. They show nearly 1.5″ of QPF for NYC and Long Island. This is only about .1″ of QPF less than the 18z GFS ensembles. -DS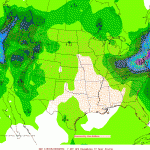 10:56pm: The GFS is still showing a solid hit of precipitation for much of the area, but did back off a tad and shifted slightly to the east. NYC/LI still gets 1″+ of QPF, and there is no strong 850mb surge of warm air. Areas to the west get a bit less. One big reason is because the GFS did not link up the NAO block with the ridging out ahead of the storm, so the storm is not "blocked" from drifting eastward. Thus, it does not stall as long.
Additionally, there was a suspicious QPF bomb to the east of the storm, associated with a rogue area of vorticity to the storm's east. That may have also tampered with the storm's precipitation shield to its west.
That all being said, a slight eastward tick does make you wonder about the Euro, and how maybe it will not totally cave to the other guidance. We'll keep you updated with all of the latest information! -DS
10:22pm: Some more information from the earlier run of the 21z SREF. Our friends at Wright-Weather have provided us with a Storm Total Snowfall map from the SREF Mean. The map uses a 10:1 snow ratio averaging all 21 members of the SREF ensemble. Click here to view.  -JH
10:04pm: The NMM continues the theme of a very strong and dynamic system tucked into the Delmarva region. High impact event again on this model. – BC
10:01pm: The 0z NAM also connects our NAO block with a ridge out ahead of out storm even earlier than previous runs, making the storm stall for even longer. Very strong low level jet stream may keep things warm for eastern Suffolk County, but Nassau County on westward gets significant snowfall on this run. -DS
9:30pm: New 00z NAM continues to remain consistent. Verbatim it has a high precipitation event for our area. NYC appears cold enough for some significant snowfall accumulations. Winds will be a factor with a tight gradient between the low pressure and strong area of high pressure to our north. – BC
8:27pm: New 21z SREF data (first of the overnight shift) continues the theme of a high precipitation, high impact event for our area. Roughly 1.50″ liquid precipitation on the SREF mean data from New York City eastward. Thermal profiles look to support a prolonged "thump" of snow from Western Long Island through NJ, NY, CT. -JH
8:00pm: Our latest forecast package from the afternoon shift was issued at 7:00pm. You use the tabs to the left to access the Technical Discussion, Brief, and graphic which detail the upcoming storm threat. -JH
7:30pm: Welcome to the Live Blog for the evening forecast shift. Our forecasters who are on shift this evening will be here to answer your questions, comments, and thoughts about the evening forecast models and new developments regarding the potential storm system. Stay tuned for more details as we get them! – JH
Comments
comments
https://www.nymetroweather.com/wp-content/uploads/2017/04/oldlogo.png
0
0
John Homenuk
https://www.nymetroweather.com/wp-content/uploads/2017/04/oldlogo.png
John Homenuk
2013-03-04 19:30:06
2013-03-05 00:21:31
Live Blog: Significant coastal storm may impact area this week