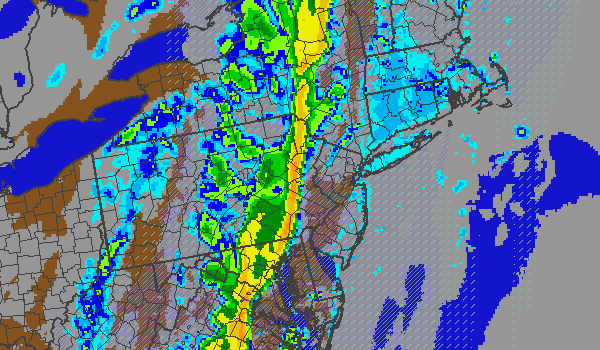 [alert type="error"]We are upgrading to a more advanced theme. Please pardon our appearance as we work out some bugs over the next few days. Feel free to contact us if you experience any problems.[/alert]
Temperatures will warm up to close out the work week ahead of an approaching cold front on Friday, and although the day may be marred by some clouds early, it is expected to generally end up a good one. Winds at the surface, which were previously out of the south and east, will flip to southerly — ushering in warmer air and taking away the marine influence from the cooler ocean waters. Low clouds and fog are possible Friday morning into early afternoon, but clearing is expected by afternoon as southerly winds strengthen. High temperatures will range from the upper 60's to mid 70's — with coastal locations remaining much cooler and interior locations of New Jersey potentially approaching 80 degrees when the sun breaks out.
The forecast takes a bit of an ugly turn after sunset on Friday, however, as a line of showers and thunderstorms rapidly approaches in association with a strong cold front. A period of heavy rain and gusty winds is likely overnight Friday into early Saturday as the front crosses the area. Winds will rapidly shift from south to west-northwest behind the front, and a new cooler airmass will be ushered in. Temperatures on Saturday night, for example, could drop into the mid 30's throughout much of the area…and may even get near freezing across parts of the interior. Enjoy the warm air while it's here! Your forecast at a glance is below.
Friday: Mostly cloudy early with areas of fog. Becoming partly cloudy with highs in the upper 60's to lower 70's. Warmer across New Jersey and cooler across the shore, especially on Long Island. A chance of showers and thunderstorms late. South wind around 20 miles per hour.
Friday Night: Mostly cloudy with showers and thunderstorms likely. Some storms could produce gusty winds. South winds around 25 miles per hour turning west around 15 miles per hour.
Saturday: Partly cloudy and cooler with a chance of isolated showers. Highs in the upper 50's to near 60. Northwest winds around 15 miles per hour.
Comments
comments
https://www.nymetroweather.com/wp-content/uploads/2013/04/nam_april19.png
350
600
John Homenuk
https://www.nymetroweather.com/wp-content/uploads/2017/04/oldlogo.png
John Homenuk
2013-04-19 00:45:26
2013-04-23 17:47:26
Forecast: Warm start to Friday, stormy finish