[alert type="error"]Moderate Risk of severe thunderstorms for Southern New Jersey. Click for details.[/alert]
[tabs]
[tab title="Radar"]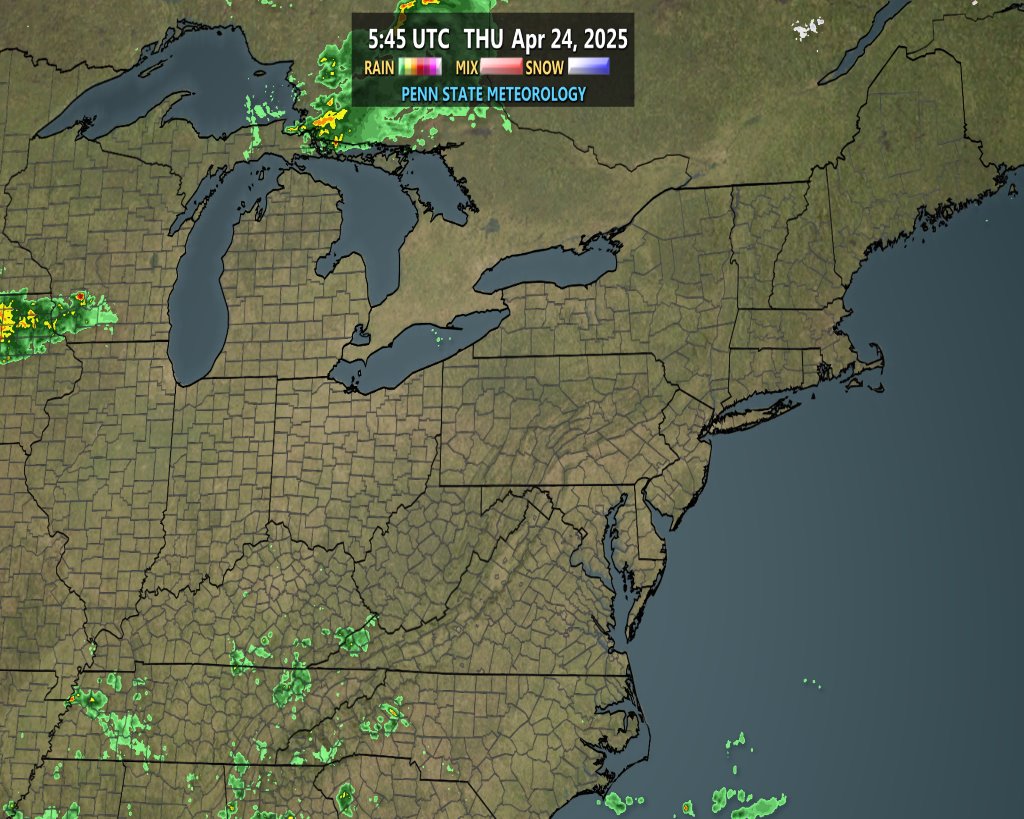 [/tab]
[tab title="Satellite"]
[/tab]
[tab title="SPC Outlook"]
[/tab]
[tab title="Sfc Analysis"]
[/tab]
[tab title="Surface OBS"]
[/tab]
[tab title="500mb Analysis"]
[/tab]
[/tabs]
An unusually strong storm system for June will move eastward from the Ohio Valley through the Mid Atlantic states on Thursday, providing the area with several hazardous weather threats. Severe thunderstorms, heavy rain and wind are all likely throughout the area at some point on Thursday as the system moves through. Throughout the day we will be updating this live blog post with the last information, discussion and links. We encourage you to keep reading along with us as we track the system.
5:00pm Update: The initial storm system helped to keep the warm front a tad further south than originally anticipated. Central NJ was originally on the border of the severe weather, but they are now safe from any severe weather threat, as are all areas north of Central NJ. An area of moderately strong (but NOT severe) thunderstorms are approaching northern and central NJ, so Sussex Counties through Flemington may have to watch out soon, and these storms should generally traverse I-80. Moderate to heavy rain, some lightning, and wind gusts up to 40mph can be expected.
However, strong and severe thunderstorms have developed a bit further south in the Mid-Atlantic, with numerous severe wind reports all throughout Virginia and Maryland. There was also a confirmed tornado by law enforecement near Colesville, Maryland, which is 15 miles north of Washington, DC. That tornado has lifted, but potent storms with strong winds still remain. They are heading east and could give southern NJ some wind gusts up to 50mph, and perhaps some exceeding 50mph. The strongest threat for these storms will be in Salem, southern Gloucester, Atlantic counties, and southward…perhaps clipping extreme southern Ocean county. We'll keep you posted if anything changes and fine-tune things as well.
11:20am Update: Storms have cleared the NJ coast from the initial thunderstorm system. Rain continues over parts of New York, Long Island and Connecticut. Some clearing is expected over New Jersey during the next hour or two. A warm front is expected to push northward with time, with additional storms developing. A severe weather threat is expected over much of New Jersey this evening. Stay tuned.
9:20am Update: Severe Thunderstorm Warning for much of Southwest NJ and the city of Philadelphia. Strong winds, heavy rain and frequent lightning expected with the complex of warned storms. Click here to see the high resolution radar imagery from the time of the warning issuance.
9:00am Update: Heavy rain in association with the decaying thunderstorm complex will approach NYC, NJ, CT and LI over the next 30 minutes and continue through around 11am. A local threat for severe thunderstorms exists over Southern New Jersey through that time frame, with the potential for some hail and strong/damaging winds.

8:05am Update: Severe Thunderstorm Watch #304 remains in effect for Central and Southern NJ. A Moderate Risk for severe thunderstorms from SPC remains over Southern New Jersey through tonight. Our forecasters were tracking a weakening complex of thunderstorms moving through Southeast Pennsylvania. Periods of rain are expected to impact New Jersey, NYC, CT and LI within the hour from the system — with the severe storms impacting Southern and Central NJ. Stay tuned for any potential warnings. Additional severe thunderstorms are expected later today.
Comments
comments
https://www.nymetroweather.com/wp-content/uploads/2017/04/oldlogo.png
0
0
John Homenuk
https://www.nymetroweather.com/wp-content/uploads/2017/04/oldlogo.png
John Homenuk
2013-06-13 08:07:45
2013-06-13 17:27:07
Live Blog: Severe storms, heavy rain likely