11:30am Update: There is a bit of a lull right now as the initial band has moved to our east, and lots of precipitation as expected missed us offshore.
But now that the system is interacting with a mid-level disturbance to our west, snow has blossomed again in E PA, and especially in SW Jersey near Philly, and head NE. The core of that heavy band may just miss NYC, but the NYC area will still see some more moderate snow within the hour and perhaps another inch or so of accumulation.
That band will probably head from I-95 and just south and east, hitting most of Middlesex county, probably clip Union county, hit Monmouth county, and then head towards Long Island, where probably another 1-2″ will fall.
There has been some melting during the lull in the action, as surface temperatures have been hovering right around freezing, and rose just above freezing during the lull in some spots. -DS
10:00am Update: Ingredients continue to lineup for heavy bands of snow in the region, particularly around the I-95 corridor or just south of it.
The image above shows a mesoscale snowfall banding parameter called EPVg. We won't get overly technical, but it's basically an index that tells us if we can expect slantwise convection, which is a much stronger type of lifting mechanism for snow bands than just straight convection. The values are more impressive as one heads southeastward, so lots of precipitation will blossom in S NJ and head just offshore, but there is certainly enough of this for heavy bands to traverse I-95, and especially southeast of there, particularly from 10:00am through noon. 1-2″ of snow per-hour can be expected in some of these bands, with around 1/2″ of snow per hour outside of the bands.
The storm is moving quite quickly, so even in the heaviest banding, 6″ will probably not be exceeded. A general 3-5″ snowfall is still expected, with maybe a tad less further NW of I-95 — though even there, slightly higher snow to liquid ratios due to colder temperatures may make up for the lack of precipitation. -DS
9:10am Update: Took this photo about 10 minutes ago in Rockville Centre, NY — shows that even along the coast, the roads became white right away. Be safe out there! -DS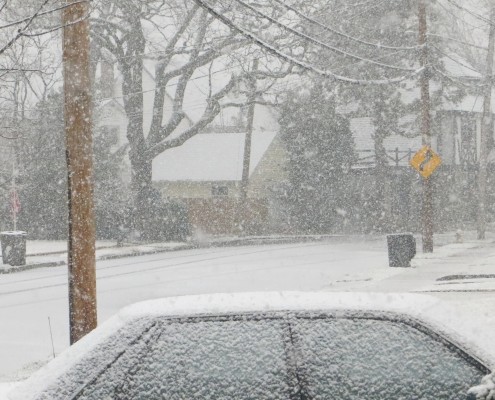 9:00am Update: Heaviest band of snow has formed in a SW to NE zone from Trenton, through Middlesex, NW Monmouth, Staten Island, NYC, and western Long Island, where 1-2″ of snow per hour can be expected. The ideal snow growth on the models has been realized, as large, fluffy dendrites are falling.
I'm in SW Nassau County, and even here, temperatures quickly fell once the snow started, and it is now accumulating everywhere. Do not let the initial slightly above freezing temperatures fool you if you are along the coast — temperatures fall very quickly once the heavy snow arrives.
Give yourself some extra time on this morning commute. -DS
8:50am Update: Banding and areas of heavy snow have continued to develop and expand some as anticipated. A bit of  warmer boundary layer (near surface) temperatures near the immediate coast will melt the initial snow (may even be a rain/snow mix) upon contact, but as snow rates increase the accumulations should begin. Not many other changes otherwise since the last update. Heavy snow is expected to continue, especially across much of New Jersey into New York City, over the next few hours.
Snowfall total forecasts also remain unchanged (you can view it in our previous article). We are expecting generally 2-5″ throughout the majority of the area (lesser end north, higher end south) with isolated higher totals in areas that sit under banding for prolonged periods of time.
8:15am Update: With the passage of the initial band of heavy snow, accumulation is occurring on most surfaces across New Jersey and areas away from the city. In the city, it will take longer for snow to accumulate on warmer surfaces — but this is fairly typical.
Latest mesoscale analysis shows atmospheric conditions are prime for continued banding of heavy snow. Increased frontogenic forcing is allowing for enhanced lift and heavy precipitation across a fairly wide area from Southeast PA into New Jersey and NYC. Snowfall rates of 1″/hr or greater will be fairly common over the next hour or two underneath this banding.
Lowered visibilities and significantly slowed travel is expected. Leave extra time and travel with extreme caution. Roads (yes, even the pre treated ones) will be extremely slippery. -JH
7:50am Update: Heavy snow beginning in Northeast NJ and NYC as a band of snow shifts eastward. This band is expected to feature rapidly increasing snow rates and falling visibilities. Expect delays on the second half of the morning commute. Snowfall rates in the band will exceed 1″ per hour. Additional snow is expected to continue through the morning. – JH
—-
Moderate to heavy snow is expected this morning as a quick hitting system moves through the area, leaving 2-5″ of snow with isolated higher amounts in banding. The National Weather Service has issued Winter Storm Warnings and Winter Weather Advisories for the entire area. This thread will be updated throughout the day with the latest information:
Comments
comments
https://www.nymetroweather.com/wp-content/uploads/2017/04/oldlogo.png
0
0
John Homenuk
https://www.nymetroweather.com/wp-content/uploads/2017/04/oldlogo.png
John Homenuk
2013-12-10 07:54:04
2013-12-10 11:39:47
Live Blog: First winter storm of the season begins in NYC