The National Weather Service issued Blizzard Warnings and Winter Storm Warnings for Long Island and New York City respectively on Wednesday, in advance of an approaching winter storm. Confidence is rising in the potential for moderate to high snow amounts, along with gusty winds and bitterly cold temperatures which are expected to follow the storm system. If you missed our Storm Overview Post, check it out for the latest information on hazards, timing and concerns. Throughout the day, we will be updating the live blog below with the latest information and imagery from our forecasters. Check back for the latest with updates every hour, or more frequently depending on the abundance of new information or the amount of hazardous weather ongoing.
NEW: Storm Total Snowfall forecast map is now available.
3:00am Update: The inverted trough portion of the storm continues to take shape, as moderate to at times heavy bands of snow continue to form, pivot, and back-build, prolonging the duration of the snow, bringing many locations their heaviest snow of the night. Most locations still have another 6 hours of solid snow left, which could add another 2 to as much as 5″ of additional accumulation. Current radar shows a heavier band of snow forming in SW Jersey, streaming from SW to NE all through most of NJ and into NYC, SW CT, and Long Island, which will have 1″/hour snowfall rates at times, with 1/2″ per hour rates outside of heavier banding. However, any 2″/hour precipitation rates should remain offshore.
Temperatures also continue to plummet, as NYC recorded an observation of 12 degrees, with heavy snow and 1/4 mile visiblities.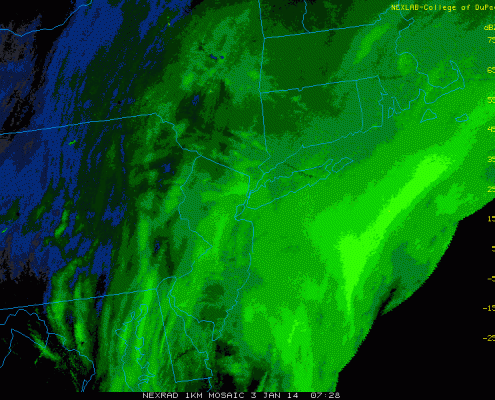 Snow has also back-built into Baltimore and D.C. again, where snow had previously ended. This is an indicator of our storm strengthening, as stronger counter-clockwise motion takes place in the presence of a deeper low pressure system. -DS
10:15pm Update: Snow is primarily light in North Jersey, light to moderate in NYC and Long Island,  but moderate to at times heavy in Central and South Jersey. There was a bit of dry air that has lingered a bit longer in North Jersey — plus the fact that the storm is still a bit to the south of the area leads heavier precipitation to fall further south.
The lowest surface pressures are east of southern Virginia, so the best lifting for precipitation is naturally still to the south. However, some of that precipitation near Delaware is rain and sleet, which is why it's more impressive on radar. Additionally, as the storm tracks northeastward, the mid and upper level trough will begin to mature and obtain a negative tilt. A negatively tilted trough is one that lines up from northwest to southeast, instead of southwest to northeast. That helps to slow down moisture advancement and gets it to pivot and blossom. The ultimate further south and east track of the surface low will prevent widespread 2″/hour snowfall rates, but steady and occasionally heavy snow of 1″/hour can still be expected at times.
Models are also signaling an inverted trough feature that will develop in association with the negatively tilted trough. This will help for light snow to linger through the early morning hours, with temperatures around 10 degrees. Although snow may be light, the snow to liquid ratios may be at least 15:1 at that point, leading to potentially another couple of inches of snow. The best chance for significant inverted trough enhancement will be in Monmouth and Ocean Counties. -DS
9:45pm Update: Short-term model data continues to show an increase in snowfall totals. The latest SREF plumes show a mean of 9.66″ of snow for LaGuardia Airport. Each line represents an individual SREF member, and the black line represents the mean: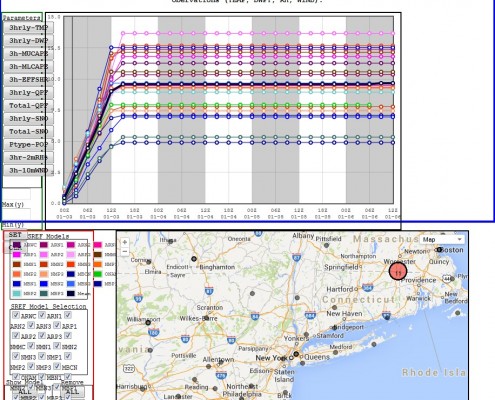 Additionally, the storm continues to get organized. It has already overperformed in Washington, D.C. suburbs, where a few to several inches of snow have fallen, when little was forecast. The storm is taking on a classic comma-head shape and heavier bands of snow will pivot into the area as time goes on. Temperatures are continuing to drop as well through the lower 20s and into the teens, helping the snow become very light and powdery.
At times, radar returns may be pretty weak. However, because of how light and fine the snow is, it will not have as high of returns on radar, so snow will still come down moderately even if the radar does not seem all that impressive. -DS
6:00pm Update: New high resolution and mesoscale model data continues the theme of the forecast which we updated this afternoon.  A general consensus on .5 to .75″ of liquid throughout the area, with some higher amounts farther to the east. Snow is overspreading the region at this hour and will become steady through 8pm. Accumulations are expected to begin rather quickly, and roads will become slick and snowy. Heavy snow is then forecast to overspread the area tonight. Our forecast for 7-10″ throughout the area remains the same, with some local variations possible.
Falling temperatures, gusty winds, and steady snow will create very hazardous driving and traveling conditions tonight. We strongly discourage traveling unless completely necessary.
New Jersey and New York have declared states of emergency through Friday and all New Jersey government offices are closed. In addition, there are several major road closures expected including the NY State Thruway south of Albany and the Long Island Expressway from Queens to Riverdale. -JH
3:30pm Update: Newest SREF data has bumped up the snowfall totals a tad to show a general 7-10″ across most of the region. The 18z NAM was also a bit wetter, and finally has 0.5″+ of precipitation for the entire region, and not just coastal locations. This increases confidence in our forecast for a general 5-9″ event across most of NJ, with perhaps an inch more for NYC and east.
Some models have begun to show an inverted trough feature towards the end of the storm, which will keep heavier snow a bit longer for areas such as Monmouth and Ocean Counties, so we would not be surprised if an isolated 10″ amount occurred in one of those two counties.
Additionally, moderate snow is moving through eastern Pennsylvania and Maryland, and is streaming northeast towards our area. Expect snow to overspread New Jersey through NYC from west-to-east in the 4:30pm through 6:00pm timeframe, coming down steadily within an hour of the onset. Traffic cameras in the Harrisburg, PA region shows some pretty heavy snow occurring at this time. -DS
1:00pm Update: Latest model guidance has either kept the precip amounts the same, or has increased them a tad. The GFS and the Euro show a widespread 0.5 to 0.8″ of QPF for the entire region, with NYC right around 0.7″ of QPF. If the average ratio is indeed 15:1, that supports 10.5″ of snow. Not sure we will get that much, but it's a possibility. The forecast remains on track for 6-10″ from the city and eastward, with perhaps an inch or two less west of the city.
Additionally, the HRRR (High Resolution Rapid Refresh Model) which is pretty good in the very short-term, shows a general 3-5″ of snow by 1:00am, with several more inches to come. This model will be more accurate as the day goes on, since the peak of the storm is at the end of its range. It runs every hour: -DS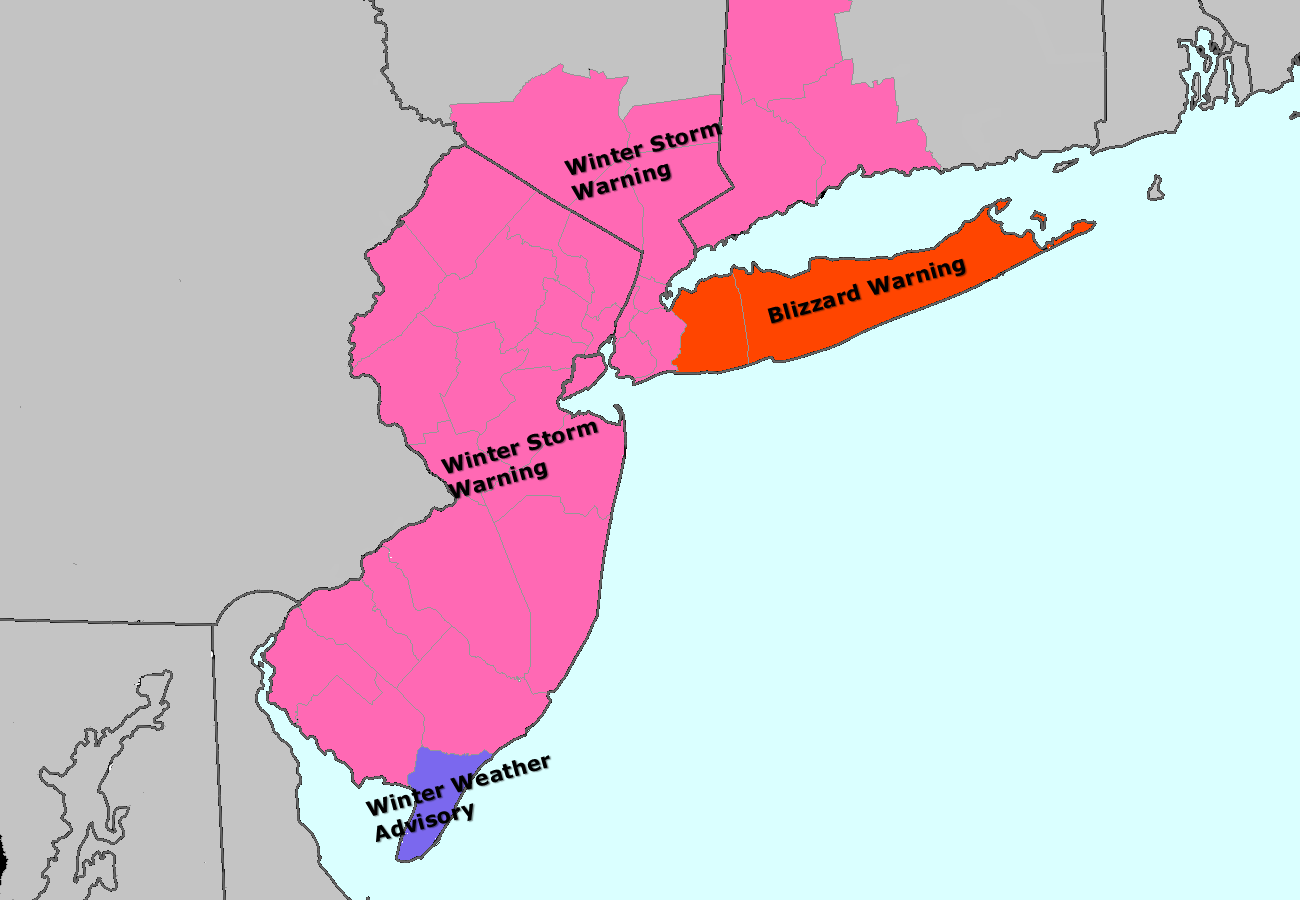 9:30am: New video update is now available. We discuss the current state of the storm system, the newest model data, and our latest snowfall forecast. You can watch the video directly below, or if you are on mobile, access it HERE. -JH
7:30am: We have updated all of our products this morning and will have continuous live coverage throughout the day. Forecast models are still in good agreement on the expected snowfall but we continue to monitor high resolution models for any potential changes.
Regional mesoscale analysis shows moisture streaming along the southeast coast this morning in response to a weak shortwave in the southern stream. This is fairly well modeled but does seem to have a slightly greater NW extent — the implications of this remain somewhat unknown. There is a dry slot across the Mid Atlantic into our area, in between the southern and northern stream energy. This is expected to continue through today before slowly filling in with snow showers later today.
Although light snow may fall in some areas this morning we are expecting any accumulations during the day today to be relatively minor. Stay tuned for further updates. -JH
12:20am: Changes to the forecast package were fairly minor. Updated the forecast brief and issued a Storm Total Snowfall forecast, Watch and Warning map, and public discussion. Hazards briefing and daily weather briefings were also pushed to clients. We'll be monitoring throughout the overnight but won't begin frequent hour-by-hour updates until around 7am. Stay tuned. -JH
Comments
comments
https://www.nymetroweather.com/wp-content/uploads/2017/04/oldlogo.png
0
0
John Homenuk
https://www.nymetroweather.com/wp-content/uploads/2017/04/oldlogo.png
John Homenuk
2014-01-02 00:25:35
2014-01-03 05:32:29
Live Blog: Significant winter storm expected through Friday