A wild swing in temperatures observed over the last 24-36 hours will end later on Monday as an arctic front approaches the region, and brings brutally cold air with it — for good. The past 24 hours or so have featured a dramatic roller-coaster of sorts in regards to temperature in the New York City region, beginning with overnight lows in the single digits to teens on Sunday. After a period of freezing rain, temperatures rose into the 40's and 50's overnight. Ahead of a cold front, warm and moist air streamed northward on Monday bringing temperatures into the upper 50's with dense fog. Almost as if scripted, a thin line of thunderstorms surged eastward bringing heavy rain and gusty winds (51mph gust at Newark Airport) followed by a change in wind direction. Many NJ observers reported sleet on Monday afternoon as arctic air began seeping in behind the front. The 40-50 degree temperature swing in both directions will continue through Tuesday.
The National Weather Service has issued Wind Chill Advisories and Wind Advisories throughout a vast majority of the area beginning at 1am on Tuesday and continuing through the afternoon hours on Tuesday, as arctic air is expected to take over the airmass to a dramatic extent. Very low heights and extremely cold air aloft will bring high temperatures down into the single digits and teens on Tuesday, and when combined with strong and gusty westerly winds, will lead to wind chill values from 5 to 20 degrees below zero even during the afternoon hours. That type of cold air can prove dangerous, especially when prolonged exposure is involved. To prepare for the cold: wear layers, plan to be indoors as much as possible, and remember to pay close attention to your pets when they are outside.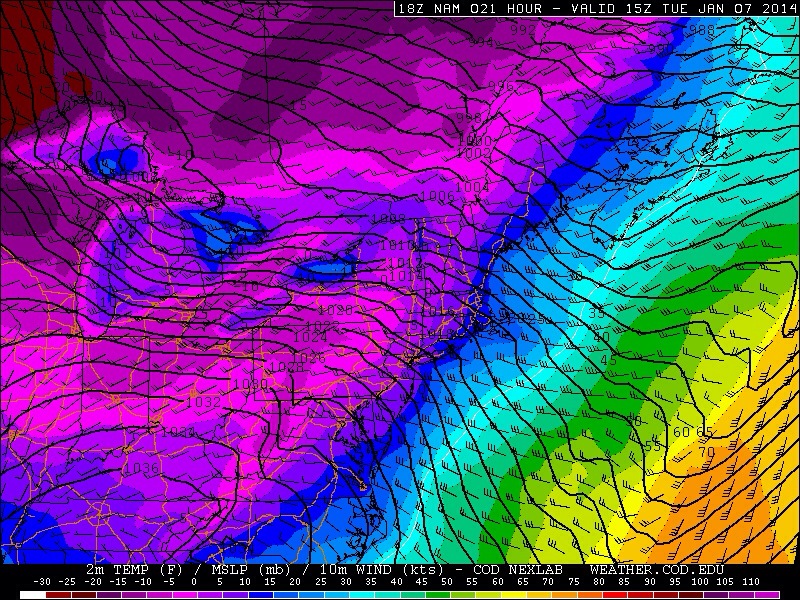 The vortex will shift eastward and modify a bit during the middle of the week, so the brutal cold temperatures won't last long. In fact, the airmass modification should be somewhat rapid with high temperatures rebounding several degrees by Wednesday. The best way of explaining this is that our area doesn't typically experience or support temperatures so brutally cold. So when an unusual airmass moves in, it needs to sustain it's source — in this case, polar air. When it's cut off from the source, as is the case here, the airmass modifies to the conditions around it.
By later this week forecast models are in good agreement that temperatures will be on a warming trend. So while we will certainly have to endure the brutal cold for some time, it should be transient relative to the weeks and months surrounding the winter season.
Comments
comments
https://www.nymetroweather.com/wp-content/uploads/2017/04/oldlogo.png
0
0
John Homenuk
https://www.nymetroweather.com/wp-content/uploads/2017/04/oldlogo.png
John Homenuk
2014-01-06 15:30:53
2014-01-06 15:30:53
Brutally cold weather set to grip the region