The National Weather Service has issued widespread Winter Storm Warnings and Winter Weather Advisories as a moderate to high impact snowstorm will impact the majority of the area on Monday. A low pressure system traversing northeastward along a cold front will provide lift for significant precipitation, which will move northeastward into the area. Bands of moderate to heavy precipitation will bring periods of snow, heavy at times, to much of Northern and Central New Jersey. For the latest expected accumulations and information, our live blog below has updates every hour or so:
8:30am Update: Snow continues throughout a vast majority of the forecast area with increasing frontogenic forcing areawide allowing for improved snowfall rates and developing expansion of banding. This will continue for the next few hours and forecast models are in good agreement on increased snowgrowth and potential for more rapid accumulations. Snow is accumulating in all areas despite warm ground, but obviously suburbs are seeing quicker accumulation rates based on fallen liquid observations thus far.
The banding is expected to continue on a southwest to northeast trajectory over the next several hours. HRRR is in good agreement with other short term models on a band of 4-8″ of snow from essentially Hunterdon County NJ through Trenton and northeastward from Monmouth Co to Staten Island NY, including Union, Somerset and Middlesex Counties in NJ. This area is prime for amounts on the higher end of that scale and the models indicate some isolated potential for amounts over 8″. Confidence in that is low and our forecast remains 4-8″ for much of that area into NYC, SW CT and LI.
Farther South in Central and Southeast NJ the transition line from rain to snow continues working south but progress has slowed. Southeast of Mount Holly, rain continues and is expected to continue over the next few hours. Some snow or sleet may mix in during heavier banding. Snow totals are expected to be lower in this area, although there will eventually be a transition to frozen precipitation later today.
Stay tuned over the next few hours and be aware of very hazardous travel. We have included our updated snowfall map below.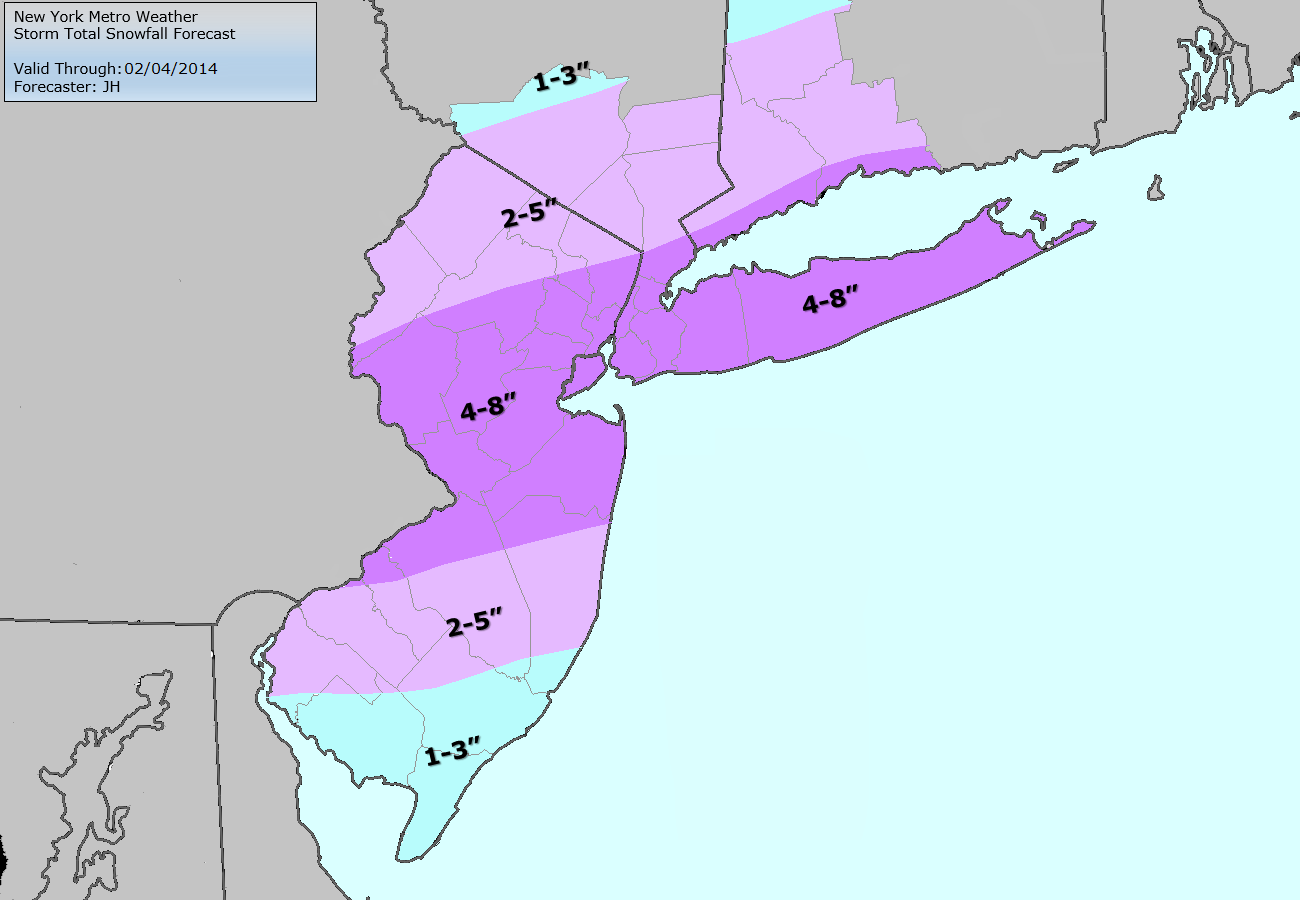 6:30am Update: Bands of moderate to heavy snow now visibly forming on radar and being pushed northeastward as frontogenic forcing strengthens. Surface low still back to our southwest over the interior Southeast States. Forecast models seem relatively accurate with precipitation depiction including the wetter NAM/RGEM/EURO and so we are now expecting a significant snowstorm area-wide. Banding from Trenton to NYC or just south of there seems like the best bet and that is the axis of heaviest snow.
Precipitation type over Central NJ will transition to snow from north to south as it has been over the past 30-60 minutes with snow pushing south of Trenton. Areas north of Mount Holly that haven't changed over to snow yet should do so very shortly, owing to dynamic cooling in a heavy precipitation band.
Concerns continue for areas in Southeast NJ where boundary layer remains warm and 925mb low will not close off until much later today. So we are still only expecting 1-3 of snow over much of that area including Cape May county. Farther north up the shore, say north of Sea Isle City towards LBI, more significant accumulations are likely..with 6″+ possible in Monmouth County shores.  Stay tuned over the next hour or so as we will continue to update on the increasingly impressive banding signature and area of developing heavy snow.
Comments
comments
https://www.nymetroweather.com/wp-content/uploads/2017/04/oldlogo.png
0
0
John Homenuk
https://www.nymetroweather.com/wp-content/uploads/2017/04/oldlogo.png
John Homenuk
2014-02-03 06:36:36
2014-02-03 08:47:05
Live Blog: High impact snowstorm underway