Right on cue. We spoke about this potential a few days ago when we noted the medium range forecast models suggesting the presence of high latitude ridging and blocking. These some models now agree that a significant cold front will shift from the Great Lakes and Central United States through the Northeastern United States this weekend; plowing through our area from Saturday Night into Sunday. Showers and some thunderstorms are possible with its passage, right on the periphery of a major mid and upper level trough.
The temperature different won't really be felt on Saturday despite the fronts passage. Initially warmer air, streaming in with a southerly flow ahead of the front, will keep temperatures in the 60's and 70's on Saturday. After some showers and maybe an isolated storm with gusty winds, the difference will become noticeable as winds shift to west-northwesterly and much, much cooler air begins moving in aloft.
In fact, models indicate the potential for 850mb temperatures to fall below 0c in the urban corridor for the first time since last winter. Much of this can be attributed to the high latitude ridging and blocking we spoke about earlier this week. It's acting to displace colder air from Canada farther south, into the Northern 1/3 of the United States.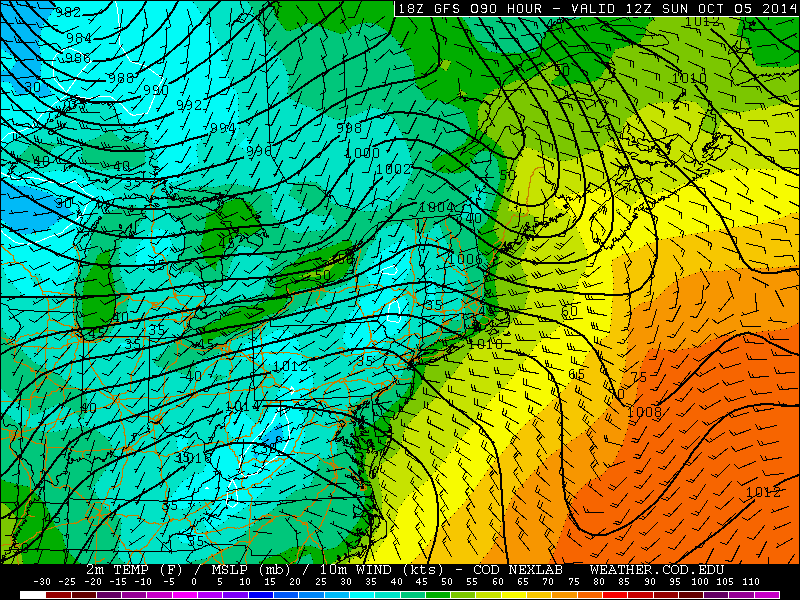 The temperature anomalies, or departures from normal, won't be anything to laugh at either. Although we won't exactly be freezing our butts off and throwing on the wool coats, departures of 10 to 15 degrees below normal are notable. The GFS model, for example, brings temperatures into the upper 30's (!!) in the area interior during the wee-hours of Sunday morning. Talk about a shock to the system.
The cold air won't last forever — and airmass modification should bring things back a bit closer to normal by early next week. But the cooler than normal air will remain…as high latitude ridging shows its effects on the pattern.
Comments
comments
https://www.nymetroweather.com/wp-content/uploads/2014/10/gfscold.gif
600
800
John Homenuk
https://www.nymetroweather.com/wp-content/uploads/2017/04/oldlogo.png
John Homenuk
2014-10-01 18:57:52
2014-10-01 18:57:52
Here comes the Autumns first big cold front