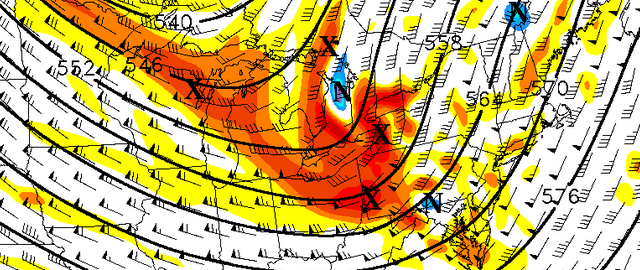 It's not often that we talk of severe weather potential this late in the season, but the upcoming meteorological setup argues for a bit of anomalous potential. A potent mid level distubrance and associated height falls will approach the area from Tuesday Night into Wednesday morning. More notably, a juxtaposition of instability and shear on most forecast models is likely to create a corridor of severe weather potential. Exactly where, and when, this corridor develops will obviously have major impacts on our forecast. Today, forecast models have come into better agreement on the idea that this corridor could traverse from New Jersey through NYC, Long Island and parts of Southern New England early Wednesday morning.
The main potential for severe weather will come Tuesday Night into Wednesday morning as a surface low passes just to our northwest, over the interior Northeast. As it does so, maximized forcing will pass through the area from southwest to northeast. Forecast models agree that southerly winds ahead of this front will lead to moisture return and developing instability. In addition favorable kinematics including veering/backing low level winds, favorable low level and bulk shear, will juxtapose with the developing instability to support the potential for severe weather.
Historical analogs are somewhat concerning given the short-term nature of the forecast. Variability is obviously still likely — and these analogs should be used for guidance only. But more than 50% of analogs at most levels produced at least 1 severe weather report in the NYC area. This is quite a robust signal, not only for this time of year, but for this area in general. The general analogs at 500mb are quite supportive of severe weather.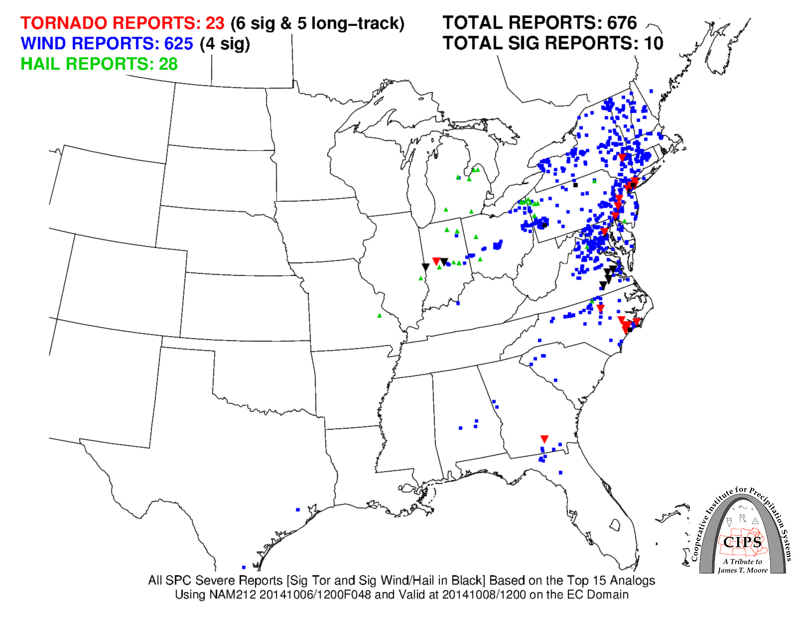 Despite the strong analogs and meteorological setup, there are still potential mitigating factors with almost every severe weather setup in our area. There are a few which stick out on Wednesday morning :
– Frontal timing: Forecast models have been waffling with the timing of the front. A faster frontal passage could lead to less moisture return and instability, resulting in less convection and lower potential for severe weather. This afternoon, forecast models trended a bit slower and farther northwest with the surface low, allowing for a slightly later frontal passage.
– Pre-frontal debris: This seems to always be an issue in our area when it comes to severe weather and, yet again, will be on Wednesday. Models agree that there will be pre-frontal disturbances capable of touching off showers and weak thunderstorms. This would certainly weaken instability ahead of the main front.
– Narrow corridor of potential: Although not necessarily a meteorological mitigation, this is more viewed from a forecasters perspective. The very narrow corridor of severe weather potential suggests that it isn't wise to speak of widespread or regional severe weather potential. Instead, it's important to note that the severe weather event could be localized.
Nevertheless, we are anticipating thunderstorms from Tuesday Night into Wednesday morning which will be capable of producing severe weather. At this time, the most likely outcome features scattered thunderstorms producing some isolated strong wind gusts. However, if instability forecasts are correct and pre-frontal convection does not develop, the potential for more organized severe thunderstorms capable of producing isolated tornadoes will exist.
At this time, it's best to remain weather aware from Tuesday afternoon into Wednesday morning. We'll be updating throughout the day on Tuesday and into Wednesday, but will also relay any information on watches or warnings as the event approaches.
Comments
comments
https://www.nymetroweather.com/wp-content/uploads/2014/10/untitled4.png
300
640
John Homenuk
https://www.nymetroweather.com/wp-content/uploads/2017/04/oldlogo.png
John Homenuk
2014-10-06 18:52:00
2014-10-06 18:52:00
Gusty winds, isolated tornadoes possible Wednesday AM