An early season winter storm will impact the area on Wednesday, during one of the busiest travel days of the entire year. Making matters more difficult for forecasters is the fact that the system goes against most climatological analogs, not only including time of year but general atmospheric teleconnections as well. With a +AO value and +NAO value, the idea of this storm system producing snow in our area is quite far fetched. Yet, forecast models and the general evolution of the mid level and surface pattern argues that someone in our area will, in fact, see significant snow.
Forecast models are now in good agreement that a mid level shortwave will slide eastward from the lower Mississippi Valley to the Southeast States on Wednesday. A trailing disturbance, surging through the Plains states, will eventually interact with the initial disturbance over the East Coast. As this occurs, a surface low pressure system will develop off the East Coast of the United States. Forming initially off the Southeast Coast near the Georgia and Carolina coasts, the storm will slide northeastward while strengthening, eventually ending up at a position near the 40/70 Benchmark.
This will lead to increased lift for precipitation spreading northeastward from the Mid-Atlantic states through New England on Wednesday. A well positioned upper level jet streak will allow for the low pressure to strengthen and precipitation to expand. While this occurs, an initially "not-so-cold" atmospheric profile will begin to cool, as a process known as dynamic cooling occurs. As cold air funneling in to the storm system expedites the process, precipitation is expected to transition from rain to snow throughout our area on Wednesday, first in the interior and eventually near the coast. After periods of snow (and mixed precipitation near the coast) for several hours, precipitation will wrap up as snow throughout the area later Wednesday Night.
But the forecast isn't so cut and dry (no pun intended). Precipitation near the coastal plain may not change over to snow for a much longer period of time thanks to a warm layer in the mid and upper levels of the atmosphere. What exactly does this mean? Well, imagine the atmosphere as a vertical column or tube. The ground is at the bottom, and the highest part of the clouds is at the top. A snow flake forms way up in the atmospheric column (in the clouds, obviously) in an area known as the "snow growth region". This region typically exists where the atmospheric temperature ranges from -10 to -20 Celcius.
As these snowflakes fall through the atmosphere, they can encounter varying temperatures. Ideally, they encounter temperatures that remain below freezing and an airmass that has plenty of moisture. In that case, the snowflakes fall and begin accumulating at the surface at a fast and productive rate. But in our case, forecast models indicate a layer of warm air, right around 650-700mb, which will work in from the south/southeast and hang out near the coastal plain. What happens now, essentially, is that the snowflake forms but on its way down encounters this warm air and melts. The warm layer is not very broad, however, so the snowflake can refreeze on its way back down to the surface — falling as either sleet or cold rain.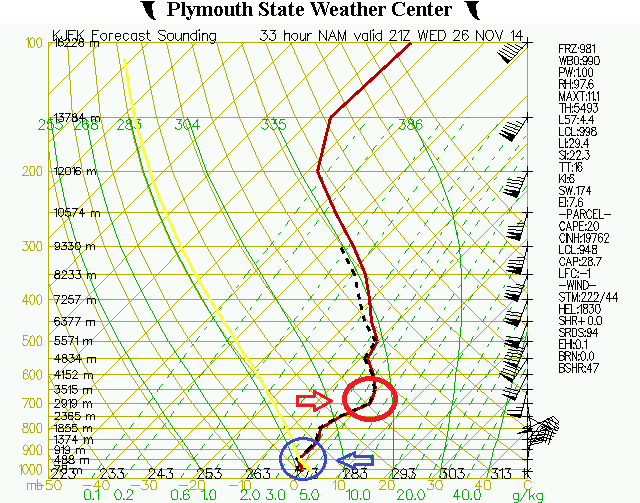 Why is this warm layer in this layer to begin with? Well, forecast models show the mid level center at 700mb closing off just overhead. Ideally, you want this 700mb mid level center to be closed off to our south and east. During the most classic East Coast snowstorms, the mid level centers (at 500, 700, 850, and 925mb) are all closed off just to our south and east. This introduces a colder, northeasterly flow at those levels while encouraging heavy precipitation to their northwest. When it is closed off overhead, it allows for warm air advection to occur at that level as the storm passes by. And, that's how the warm layer occurs.
Still, the 700mb low passing nearby and overhead while the 850/925mb lows pass to our south and east can be a harbinger of heavy precipitation due to increased frontogenesis at that level of the atmosphere. This is referred to as a TROWAL or a "Trough of Warm Air Aloft" — and they can increase lift for heavy precipitation which dynamically cools the column further.
So, we are walking a bit of a tightrope in the mid levels of the atmosphere during this storm. Increased warm air advection at some levels can aid to increase precipitation intensity thanks to lift and frontogenesis. But too much warm air advection, and you'll see precipitation flip to liquid due to a part of the atmospheric column warming above freezing.
What ends up developing, as this battle occurs, is a very tight gradient between who receives heavy snow, who sees fluctuating precipitation types, and who sees mostly rain. Not surprisingly, forecast models have this boundary straddling our forecast area, almost directly near New York City. This makes our forecast extremely complicated. Neverthless, we have gained more confidence on the eventual outcome and evolution of the storm system.
Our highest snowfall totals are favored over Northern New Jersey's interior and higher elevations, Southeast New York, and Western Connecticut. Here, the boundary layer remains supportive of snow for a large majority of the storm despite some initial rain as the storm is moving up the coast. Lift for heavy precipitation will be maximized on Wednesday afternoon and snowfall totals will exceed 6 inches in some spots, possibly nearing 8 inches in some locations as well. Hazardous roads and travel are obviously anticipated here.
The suburbs of Northern New Jersey are likely to be on the western fringe of the battle between warm air advection and dynamic cooling from heavy precipitation. Rain for a period of time on Wednesday will transition to snow, which may not accumulate at first but eventually will. During the height of precipitation, a brief flip back to sleet or rain is possible before the system ends as snow. A few inches of snow — up to 4/5 inches in the Westernmost NYC suburbs — are likely, with hazardous roads and icy travel conditions.
For New York City itself, the forecast remains incredibly complicated. Afternoon forecast models indicate a high likelihood that precipitation will begin as — and stay — rain for several hours from Wednesday morning onward. But eventually, dynamic cooling will take over and precipitation will transition to snow, first in the West/Northwest part of the Bronx and Manhattan and eventually into Queens and Brooklyn. A coastal front looks to setup in Southern Queens, Brooklyn, and Long Island — and this will serve as the boundary between areas that receive a few inches of snow and areas that don't. Central Park itself looks likely to receive the high end of 1-3 inches of snow, with our confidence highest in the park falling in between the 2-4″ range when all is said and done. But the dropoff in snow over areas like Southern Brooklyn and JFK will be noticeable — we expect only an inch or two there.
Anticipated Travel Impacts
During periods of heavy snow, visibilities will be lowered and roads will become difficult to travel on. Assuming local crews succeed in pre-treatment, initial snow should melt. But with forecast models showing good lift for heavy precipitation and snowfall west of New York City, many roads in Northern NJ, Southeast NY and Connecticut could be difficult to travel on from Wednesday morning through Thursday morning.
If you're headed out on Wednesday or expected to travel through this area for Thanksgiving, the best bet is to do so in the morning. And if you're coming through the afternoon, take a southerly route from I-95 and through New York City. Although that may not make sense to you initially, the warmer temperatures there will keep roads wet, not white, until the second half of the storm. If you choose to travel through Northern New Jersey and the higher elevations, you'll encounter snowy roads and many more delays.
Scheduled Updates
Our next scheduled update to snowfall products and hazards briefings is 4:00pm this afternoon. We'll have updates on social media throughout the day today. Stay tuned for additional information including watches, warnings or advisories which we relay from the National Weather Service.
Comments
comments
https://www.nymetroweather.com/wp-content/uploads/2014/11/header1.png
249
656
John Homenuk
https://www.nymetroweather.com/wp-content/uploads/2017/04/oldlogo.png
John Homenuk
2014-11-25 12:50:32
2014-11-25 12:50:32
What to expect from Wednesday's significant Nor'Easter