Final Snowfall Totals: A full list of (mostly accurate) snowfall reports can be found with these two links:
Upton National Weather Service Reports
Mt. Holly National Weather Service Reports
These may be subject to further updates since a lot of the reports are old (we are awaiting the final numbers from NYC and LaGuardia Airport). But generally speaking, NYC through Brooklyn and Queens had 10-13″, Nassau County had 12-18″, Suffolk County had 18-30″, but areas west of NYC generally received much less snowfall. The gradient was quite sharp, as most people from Nassau County and east got close to or as much snow as was expected, but the heavy snowfall banding did not make it that far west. We explain the forecast bust here.
Overnight 1/27: We actually lost internet, so updates were tough to come by. The heavy banding from the ocean produced consistent whiteout conditions in Suffolk County, occasional whiteout conditions in Queens and Nassau, but not very much west of that as the air remained very dry just to the west of the band. In an area of heavy banding, there is very strong lift, but the atmosphere has a balancing act, so that often just to the west of areas with strong lift — especially with a storm that passes well to the east — there is an enhanced area of subsidence, that prevents the band from crossing further west.
Here is a video of the near-whiteout conditions in Rockville Centre, NY:
9:00pm 1/26: West of NYC was always supposed to be an area where snowfall totals could theoretically rapidly drop, and the latest NAM model hints at this. Heavy snow on the new run literally hits a wall in NYC, and doesn't make it much further west than that. Whether it's right or not we don't know, and the latest observations still do show a westward push to the radar. But the idea of a strong cut-off west of NYC could be a realistic idea.
Areas east of NYC still look to do very well in the snowfall department.
7:10pm 1/26: Technical Update: For those who are worried about the HRRR not showing much snow for the region, we have a couple of things to say:
1) The latest HRRR is a bit west of its previous run.
2) More importantly, meteorologist Phillippe Papin made the astute observation that the HRRR can suffer problems with retrograding coastal systems. When precipitation is over the ocean, the HRRR can only see what the radar sees, since currently radar reflectivity is implemented into it. The radar in itself has a limited understanding of latent heat release with deepening ocean cyclones that does not occur with cyclones over land (the ocean has a lot more moisture than the land for latent heat release!) This could cause the HRRR to see the storm as being weaker, and thus make it more prone to jump the cyclone towards convection and push the storm further east.
6:45pm 1/26: The push westward has begun! The ocean banding has already pushed into most of Long Island, and should be in NYC by 8:00pm, and continue to push westward from there. Snowfall will gradually get heavier as it approaches, but the heaviest snow will be after midnight.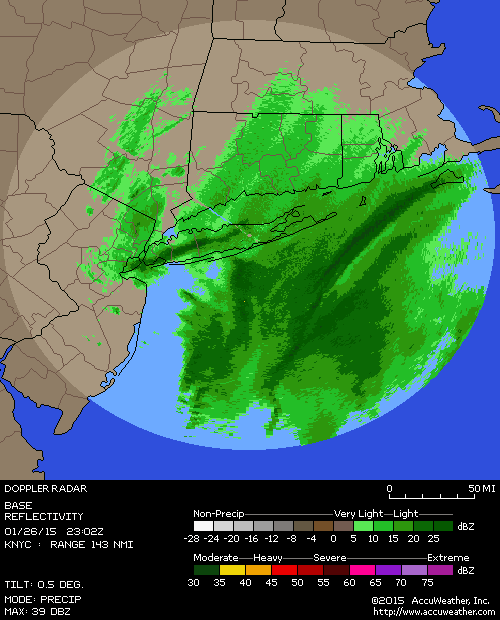 5:00pm 1/26: Governor Cuomo has announced that the entire NYC Subway system will be shut down at 11:00pm tonight.
4:15pm: A very heavy snow band has set up near NYC, in Queens and Long Island. LaGuardia airport has reported 2″ in the last hour! New Jersey remains to the west of this band so their snowfall totals are much lighter.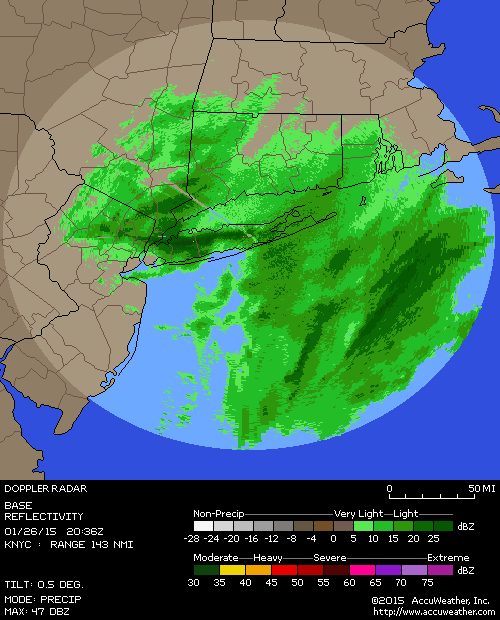 There are hints that the precipitation in the ocean is merging with the band and trying to back NW towards the coast, though that hasn't happened decisively yet. What we need to watch is the progression of this precip — the models that give us heavier snow have a clear westward leaning towards that precip by 7:00pm. We would like to see that occur if the snowier models are going to verify. As of now, areas east of NYC look great for 15″+ of snow, but there are still uncertainties from NYC and west.
3:05pm: Latest NAM model confirms the observations of the trough being more negatively tilted than forecast. It takes the storm and tucks it in west off the NJ coastline and stalls! Amounts would be exceed 2 feet in many locations if this run were to verify. Note: This is NOT our forecast, but it could indicate that the heavier snow amounts may extend further west, like previous European Model guidance.
2:40pm: Snow has already greatly picked up in intensity, and is coming down moderately to heavily at times. Many locations have already reported 2-3″ of snow in our area, with nearly 1″ per hour snowfall rates. We think this is because the negatively tilted trough has allowed for some isentropic lift to be oriented from SE to NW, and then some convergence once that fetch hits the land adds to the lift, allowing snow to form. It also allows snow to reform at the shores instead of moving away, because the convergence keeps feeding more snow bands. These snowfall rates are expected to continue for at least the next hour or two, creating a very messy evening commute. Roads are already quite treacherous.
9:30am: Well, the European Model is king. The NAM model just came in and showed a 100% textbook scenario of how to get historic snowfall in the NYC area. It closes the 500mb low to our south and stalls the surface low, while the 700mb low and lifting is absolutely ideal for heavy banding.
As far as current weather conditions, the initial burst of snow has overperformed somewhat. And while there may be a brief lull in the action this morning, bands of moderate snow are forming in S NJ and heading our way.
8:35am: We're back in action this morning! Not much has changed overnight. Light snow continues to fall throughout much of the region. This is occurring due to a weak disturbance aloft, riding out ahead of the main show later this afternoon. There is enough moisture in the atmosphere to produce light snow. This is modeled to continue throughout the day today, with banding slowly working northwest from the Western Atlantic Ocean through New Jersey and eventually toward NYC tonight. Roads will become progressively worse after around noon today. So if you have to travel tonight, we recommend making plans to do so earlier. Our forecast has not changed and our Storm Total Snowfall map remains the same as it was yesterday. Our forecasters are working on any potential tweaks and attempting to refine the map as best as possible.
The NWS Watches and Warnings included below also remain unchanged. Hang tight for updates today!
1:15am 1/26: What a rollercoaster of model runs. Other guidance had backed off a bit as well, but was still very close to the bigger amounts. This led to the big question: would the Euro model hold? And that it did. It still gives the NYC area 2 feet of snow and locally higher in some spots. That is not our forecast, but it does seem to question the models that backed off. The key was that the European model did not shove the surface low towards the area of convection, and instead it got captured and turned NW, like old runs. It actually deepened even more than the previous run, though it did tick slightly east — which really only reduces snowfall for W NJ and E PA.
This will be quite the interesting forecast.
10:30pm 1/25:  The latest NAM and RGEM models have also cut back a bit for the storm, but are still showing snowfall in excess of 10″ in NYC, and still over a foot for Long Island. Areas west of NYC, the amounts drop off somewhat. There is speculation that these models could have had convective feedback, where it incorrectly places a surface low, or budges a surface low, towards an area of strong convection because that's where air is rising. While this may be true, it does not necessarily mean that the east tend is an invalid idea. This is why we thought it was irresponsible to issue snowfall maps that gave a widespread 24-36″ for the entire region.
Next up, GFS.
8:55pm 1/25: Two things:
1) Here's an updated map on the NWS warnings and what is being entailed.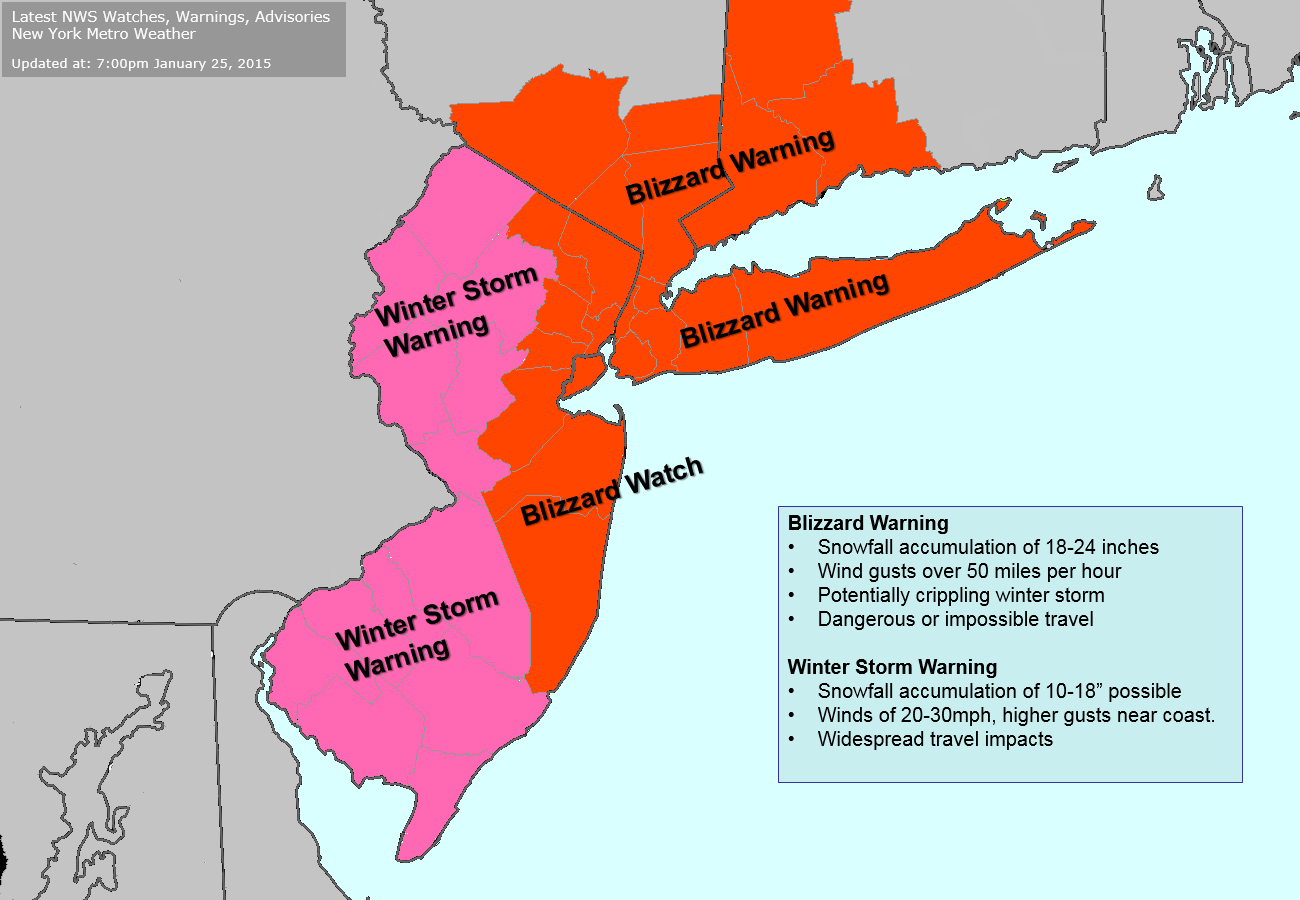 2) We will be doing a model-run play-by-play. The first model run just came out, which was the 21z SREF (Short Range Ensemble Forecast). They essentially held serve and gave NYC and east 18-24″ of snow, and areas west of NYC a general 12-18″ of snow.
Up next is the NAM, which will be coming out within the next half-hour.
7:3opm 1/25: Welcome to our live blog for the upcoming significant snowstorm and blizzard, which is expected to impact the area on Tuesday of the upcoming work week. This thread will update automatically throughout the evening and into Monday morning, with the latest information. This information will include but not be limited to: NWS Watches and Warnings, forecast models, forecast updates from our meteorologists, latest emergency information.
Feel free to reply to the thread with any questions or information you would like to share. Also — keep in mind that this thread will be updated in a top-down form. So the older posts will be near the bottom. Happy tracking!
Comments
comments
https://www.nymetroweather.com/wp-content/uploads/2015/01/theheader2.png
200
675
John Homenuk
https://www.nymetroweather.com/wp-content/uploads/2017/04/oldlogo.png
John Homenuk
2015-01-25 19:33:41
2015-01-27 14:26:37
Live Blog: Nor'Easter, blizzard likely Tuesday