4:00pm: The National Weather Service has issued Winter Storm Warnings for most of New Jersey including the New York City Metro Area from late tonight into Thursday. Generally, their forecast calls for 3 to 6 inches of snow with higher amounts of 5 to 9 inches possible south of New York City throughout parts of Central New Jersey. Lighter amounts of 2 to 5 inches are expected farther north in New Jersey, where a Winter Weather Advisory is in effect. You can read the warning text here.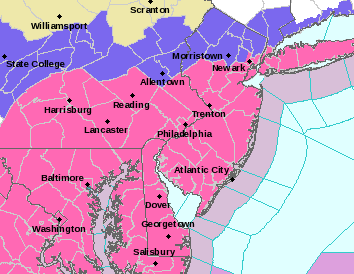 2:35pm: We are now beginning to get into range of the HRRR Model (High-Resolution Rapid Refresh). It updates every hour and only runs out to 15 hours in time. It can sometimes be good at pinpointing short-term trends in banding and changeovers from rain to snow. The latest HRRR model has rain changing to sleet at around midnight, then to snow at around 2:00am, and it comes down very heavily.
2:20pm: This afternoon's SREF model (the earlier run from this morning is referenced at the beginning of this post) has trended northward once again with its precipitation shield and location of banding. While this doesn't garuntee anything, it suggests that the potential for 6″ or more of snow may be shifting slightly northward today. We'll be keeping an eye on it with this afternoons model runs.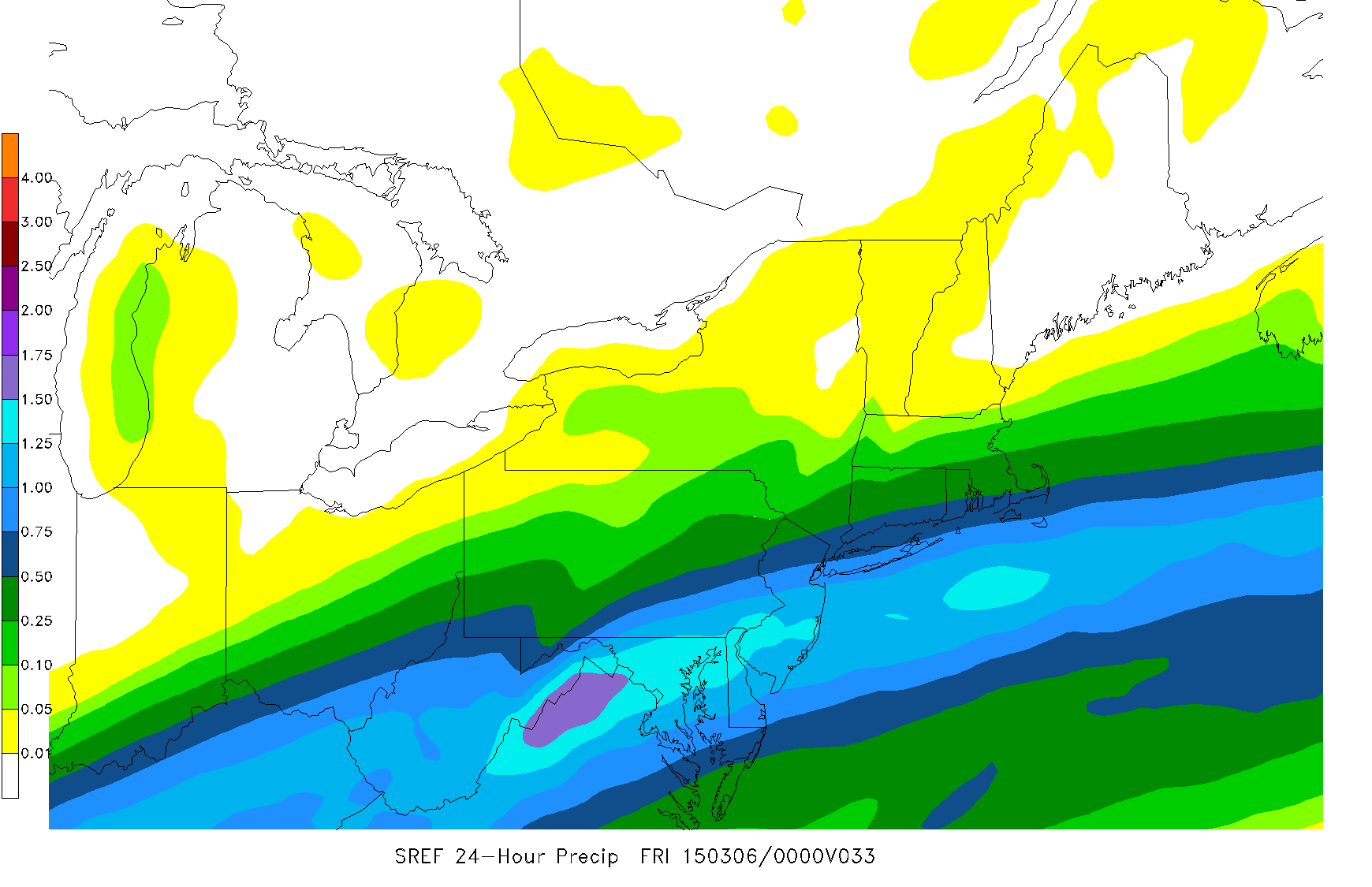 1:15pm: Overall, the only model that shifted south from its previous run was the NAM, while everything else held or even shifted north. The NAM has done decently well with the past few snow events, but its inconsistency with this storm plus its overall track record means we can't take it too seriously just yet. There is still the chance that wave one is better for northern suburbs and NYC and south remains too warm to get a lot of snow from it, and then wave two gives a lot of snow to areas south of NYC but not NYC itself, creating a relative "snow hole" somewhere. Some guidance shows that "snow hole" in Northeast NJ.
That all being said, the upper level support remains excellent for lift as well as frontogenesis with the baroclinic zone. The initial warm layer during wave one is shallow and confined to near the surface, so heavy precipitation could yield accumulating snow anyway. Then with wave two, temperatures in the atmosphere will be a lot colder but the maximized lift means the atmosphere remains very saturated, so even only 0.2″ of liquid-equivalent precipitation could lead to 4″ of additional snow.
Over the next few hours, we will be fine-tuning our forecast.
1:00am: The European Model is out, and it held serve from its snowy run last night. Verbatim, it shows lots of the area getting >6″ of snow. Rain and sleet changes over to snow shortly after 1:00am, and our area gets a few inches of snow with both wave one and wave two.
12:30am: The 12z GFS ensembles, which are essentially 20 different runs of the GFS model, but each run with slightly different initial conditions to account for uncertainty, are still northwest of the regular GFS model and gives decent snowfall with both waves. This potentially means (but doesn't guarantee) that the regular GFS model is too far south.
Next up is the European Model, which comes out at around 1:00pm.
11:45am: The 12z UKMET model is out, and it remains snowy with both waves. Both waves giving the region snow is supported by the meteorology of the setup. Pinpointing banding is still going to be quite tough, but the NYC area still stands a decent chance at a 4″+ storm.
Essentially, the snowier foreign models from last night (RGEM, GGEM, UKMET) have not backed down, while the NAM went a bit south, and the GFS, while south of the foreign guidance, went north of its 06z run.
As we speak, we are trying to figure out how much of the precipitation that the UKMET model shows falls as snow.
11:15am: The NAM model, RGEM, and GFS have all come out. We're not a big fan of just saying "north trend vs south trend" since that's too much of a broad-brush.
But what has seemed to happen is that models have trended wetter with the initial impulse of precipitation from 11:00pm through 7:00am or so. This gives northern suburbs more snow, because the initially further north position of the front sends the first impulse further north. While it could still give several inches of snow for the NYC area, that is a bit more uncertain since surface temperatures may be a bit warm. However, heavy precipitation could theoretically still snow through that and accumulate — it's going to be a close call.
They have also trended a bit south with part two of the storm — the colder part. This would mean less snow during the day itself on Thursday, and confine the heaviest snow in C NJ and south. That being said, the 12z GFS still gives NYC and south a few inches of snow during part two.
However, as we type this, the 12z GGEM model has come out and is still snowy with both waves. This is why we do not want to overreact to every individual model run and instead want to wait until the whole 12z suite comes out to make a final call. The impressive lift with the jet streaks still imply a chance for several inches of snow for the whole area — pinpointing the bullseyes with wave one and wave two will be tough.
8:35am: The aforementioned SREF model from 09z (the first model run of the morning) shifted slightly northward with the bands of moderate to heavy snow on Thursday. The total precipitation image is below. Here, via Nexlab, is a 12 hour snow total forecast. A few inches fall after this frame. Note, this is not our forecast — but just one forecast model.
8:25am: The newest morning SREF (Short Range Ensemble Forecast) data has arrived. A slight tick northward can be observed with the band of heaviest precipitation. But notice how the model, which is a mean of several ensemble members, keeps the heaviest band to the south of New York City. The fringes of this band of heavy precipitation will feature a sharp cutoff from heavy snow to light snow in a very small area. Still, this morning run of the SREF is a move northward from the overnight run — so forecasters will take note of that moving forward.
Introduction, information at 8:30am: A thermal gradient, or baroclinic zone, will be positioned from the Ohio Valley through the Mid Atlantic and Northeast, serving as a highway for the development of precipitation. As the mid level jet dynamics are enhanced Thursday, snow will become more widespread throughout the Mid Atlantic and Northeast United States. On the northern periphery of the forcing for moderate to heavy precipitation, a band of moderate to heavy snow is likely to develop. Pinpointing where that band will develop will likely be a major headache for forecasters. Forecast models have been struggling with the intricate details of the threat, including the positioning of the thermal gradient and the northward extent of the heaviest banding. This is problematic as it creates a very uncertain precipitation and snowfall accumulation forecast. Follow along this afternoon as we track the latest models and data.
Comments
comments
https://www.nymetroweather.com/wp-content/uploads/2017/04/oldlogo.png
0
0
John Homenuk
https://www.nymetroweather.com/wp-content/uploads/2017/04/oldlogo.png
John Homenuk
2015-03-04 08:28:22
2015-03-04 19:29:20
Live Blog: Morning, afternoon model guidance and analysis