No spring for you! Mother nature has other ideas today — and it seems she hasn't realized that Winter is over. A mid level disturbance moving from the Ohio Valley to the Northeast States will force the development of a surface low pressure system off the Mid Atlantic Coast. Light snow will spread from southwest to northeast today, becoming moderate and steady during the afternoon. Periods of heavy snow are anticipated this afternoon and evening. When all is said and done, most areas will see between 1 and 3 inches of snow — but a band of 3 to 5 inches of snow is likely from Eastern PA through Central NJ toward New York City.
Follow along with our Live Blog today as our meteorologists update with the latest information, data, observations and forecast:
2:20pm: Moderate to heavy snow is finally overspreading most of the region. In NYC, heavy snow and a temperature of 33 was observed at 2:00pm. In some areas of Long Island and NYC, temperatures are still slightly above freezing, but as the snow continues to pick up in intensity, temperatures will drop to freezing and just below. This should allow accumulations to begin by around 3:00, if they have not already. The heaviest snow will fall from 3:00pm and on.
In most of NJ and northern suburbs of NYC, temperatures are below freezing, so accumulations will be quicker to come-by. Roadways will be whitening soon.
10:10am: The atmosphere is slowly moistening from southwest to northeast and increasing lift will bring the start of steady snow to many areas by noon. The latest HRRR continues with a trend toward heavy snow throughout much of the area around 2:00pm this afternoon. Leave extra time for travel and prepare for low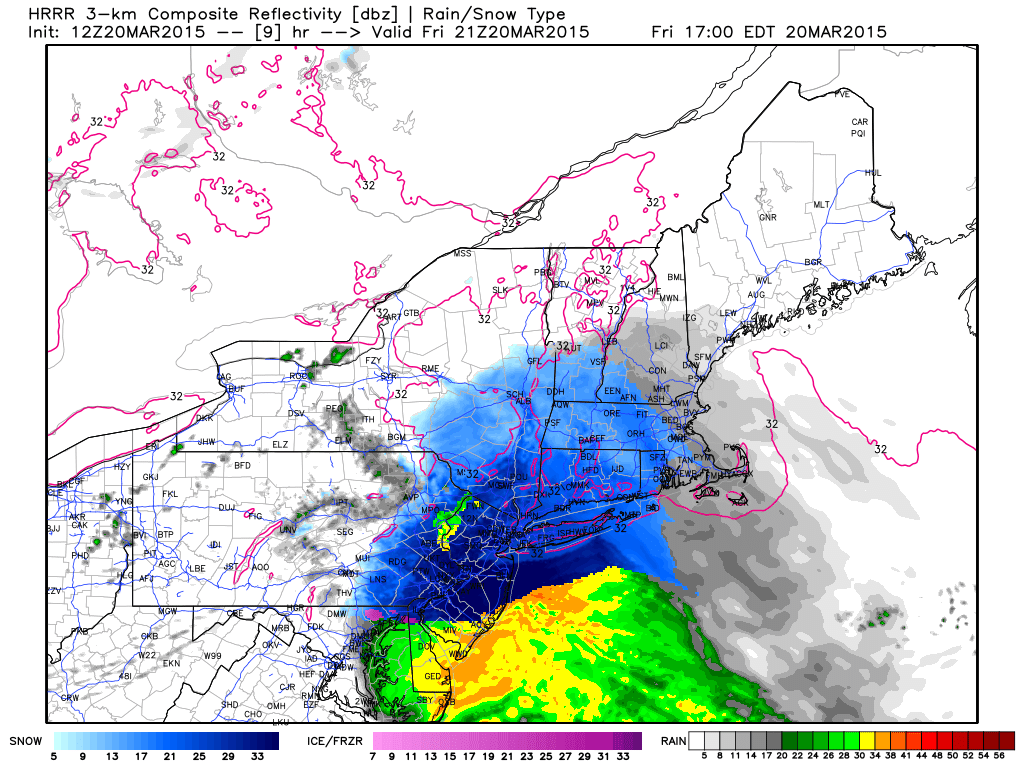 .
8:40am: HRRR model shows the evolution of the storm system well over the next 12 hours. The heaviest snow is expected to come after 12pm for many areas, when lifting in the atmosphere will be maximized and working to produce heavy precipitation. These bands of heavier snow will set up from Eastern PA to NJ and possibly NYC. Travel likely to become hazardous during this time.
Comments
comments
https://www.nymetroweather.com/wp-content/uploads/2015/03/NYCSNOW.png
198
732
John Homenuk
https://www.nymetroweather.com/wp-content/uploads/2017/04/oldlogo.png
John Homenuk
2015-03-20 08:42:48
2015-03-20 14:20:52
Live Blog: Spring starts with moderate snowstorm