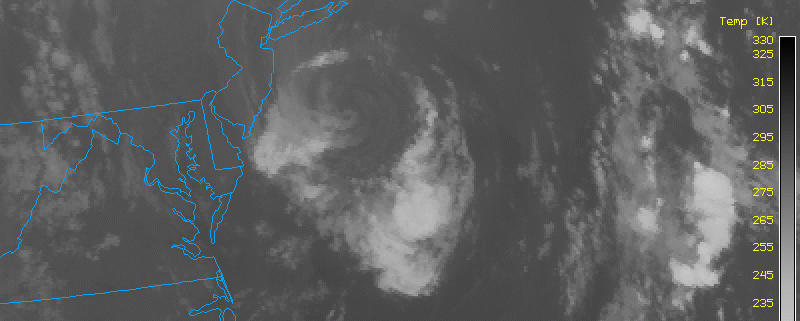 You may have noticed some periods of squally, windy showers last night. Yes, that was actually from Hermine (or the remnants of it, anyway) — the system that we all just want to go away keeps finding a way to hang around. A blocking pattern captured the storm and allowed it to come back towards the area, fortunately  in a much-weakened state. But the weakening and transition to extra tropical in nature allowed some rain bands to expand away from the center of the storm, and back in to our area from the east.
The same general theme will continue on Wednesday, though with the storm continuing to weaken, the rain bands will be lessening in coverage. Some day-time heating may still try to enhance a few rain bands, but they will continue to be isolated to scattered in coverage and there may not be much at all west of I-95. We may see breaks of sun again — particularly for inland areas — as a large ridge builds into the area. This large ridge would be giving our area a heatwave had it not been for Hermine.
Still, though, a drying northerly flow combined with warm temperatures aloft from the mentioned ridge will allow temperatures to rise into the mid 80s on Wednesday, which is several degrees above average. It looks to be another great day for the surfers, as waves and swells will be impressive once again.
Later Wednesday and Thursday, a cold front will be pushing into the area, finally pushing Hermine's remnants out to sea and allowing for clearing skies. Low temperatures look to be in the upper 60s for most of the area, with low 70s near the city. With Hermine's influence lessening tomorrow, temperatures should rise nicely — highs around 90 or in the low 90s appear possible for areas west of NYC, with upper 80s to around 90 elsewhere.
The front will arrive Thursday Night triggering scattered showers and thunderstorms — most likely in the late-evening through the early-overnight hours. After some unsettled weather this weekend, a frontal system by early next week looks likely to drop temperatures fairly notable, with cooler, drier, and pleasant weather by early next week. It may even be feeling like Fall!
For more details on the forecast, including video discussions and long-range outlooks up to 4 weeks, become a Premium member today!
Comments
comments
https://www.nymetroweather.com/wp-content/uploads/2016/09/CODNEXLAB-2km-Mid_Atlantic.ir_.20160907.0815-100-100-raw-e1473238595647.gif
362
800
Doug Simonian
https://www.nymetroweather.com/wp-content/uploads/2017/04/oldlogo.png
Doug Simonian
2016-09-07 07:00:55
2016-09-07 06:35:08
Wednesday Overview: Hermine still hanging around