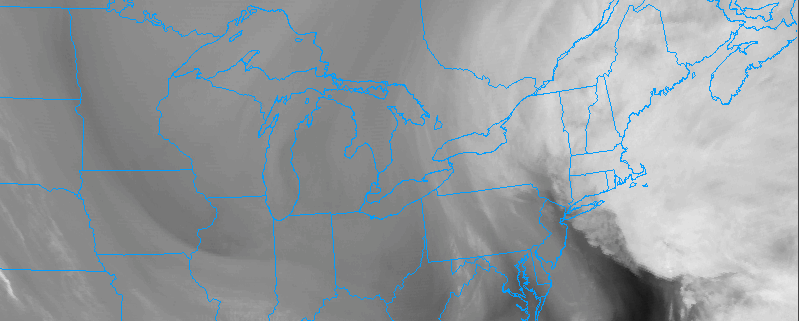 Let's cut straight to the point here: Our forecast snowfall amounts in and around New York City were too high. Our snowfall forecast, which by the night before the storm had settled into the 15-18″ range for the metro area, ended up too high by 8-10″, which as you may assume is a much larger spread than we are comfortable with. While the forecast did verify very nicely in many other areas, the I-95 corridor was an area where verification was specifically poor.
Before starting an organized mob with pitchforks and torches to storm your local meteorological office, we're going to attempt to provide some perspective today. The reality of it is, these kinds of blown forecasts are difficult for us all. The general public — and our clients — planned ahead based on our forecast amounts, and frustration was very high when they didn't work out. Accordingly, our team worked tirelessly to get the forecast right, spending countless hours pouring over data and pinpointing intricate processes, and getting it wrong was a frustrating and humbling experience.
Some background into the storm itself 
One thing which will likely be lost in the smoke of the blown forecast is the fact that, by and large, this storm system was extremely well signaled and forecast in advance. More than three weeks ago (!) our team (and many others in the meteorological community) started talking about the potential for Nor'Easters and winter weather during the period near March 15th. The weather pattern throughout the hemisphere was changing.
Most notably, the pattern was changing in the high latitudes of Greenland and Northern Canada, where a large ridge of high pressure developed. This ridge of high pressure was stagnant — also known as a "block". These are aptly named because, well, they block the atmosphere's flow through those higher latitudes. In addition they dislodge cold air, usually bottled up in the arctic regions, further south in Canada and often the Northern US. These high latitude blocks are present in some of our more notable winter weather events.
As we drew closer to the time period we were watching, it became clear that multiple waves of wintry weather were possible. The first delivered snow at the tail end of last week. The second went harmlessly out to sea. And the third, well, that was the one to watch. The potential was through the roof: Blocking to our north, a west coast ridge, and two disturbances phasing along the East Coast. Classic.
Forecast models and ensembles signaled the presence of the storm and potential for significant snow for more than five days in advance. This, in itself, is a triumph for medium range weather forecasting. The consistency was incredible, and forecasters were able to communicate the risks of the storm system extremely well with plenty of lead time for government and local agencies to respond and prepare.
When the evolution of the forecast started to change
A day or two before the storm system occurred, the evolution of the forecast began to change. The synoptic setup suggested two disturbances would phase over the Eastern United States. One over the Mississippi Valley, and another dropping south from the Great Lakes. The powerful interaction between the two would force the development of a very strong low pressure area off the Eastern US Coast, which would shift from the Carolinas to New England.
As the event drew closer, however, forecast models began to converge on a track which was on the far western side of our "Envelope" of possible solutions. Precipitation amounts were trending higher, as were coastal impacts from wind. Our forecasters began to take this into account, adjusting snowfall amounts along the immediate coast. The further west track meant more warm air in the atmosphere would make its way into coastal sections, changing precipitation over to mixed precipitation or rain at times.
The heavier precipitation, however, also meant that dynamic cooling would be stronger near NYC and just inland — or so we thought. Dynamic cooling occurs when extremely heavy precipitation cools the air around it, allowing borderline temperature profiles to cool and support snow. With more precipitation and a dynamic low pressure area offshore, synoptics supported heavier snow in those regions.
Over the past weekend, in our free zone forecast, we discussed the possibility for warmer air to push into the mid and low levels of the atmosphere, changing precipitation over to a mix or even plain rain near the coast. This was taken into account, but not to a large degree, with forecast models suggesting dynamic cooling would keep precipitation mainly snow away from the immediate coast. With the surface and mid-level lows tracking even further west, the low and mid levels were able to warm more than anticipated, and snow changed to sleet in many areas that we thought would remain cold enough for snow, including NYC .
While we can't speak for the rest of the community, we aren't going to make excuses for ourselves as a team. We just didn't get the forecast right. There were plenty of warning signs, in hindsight, that could have helped us to err even more of the side of caution, especially when it came to snowfall totals along the I-95 Corridor. The 700mb low, for example, which often dictates where the heaviest banding will develop, was tracking too far west (over New Jersey and CT). This suggested the heaviest snow bands would end up in New York State, and they did.
Forecast soundings, for example, although suggesting mostly snow in New York City, also hinted at mid level warming and the presence of some poor snow growth. The warming was stronger than models expected, but hints of its presence were there. While these are mainly armchair hindsight statements, we will only improve if we continue to analyze what we did and did not see — and that's what we are trying to accomplish in our reanalysis.
What we got right, and how we can improve
Getting something wrong is not an easy pill to swallow, but the atmosphere has a way of continuing to humble us. That is something we have learned to appreciate. With that being said, there are noteworthy accomplishments to be recognized with this event. For one, the meteorological community as a whole had a great handle on this forecast for weeks in advance. Even in the week leading up to the storm system, confidence was higher than normal in its occurrence.
This type of communication and forecast skill cannot be understated or under appreciated. We have come a long way in understanding how to properly forecast the atmosphere, and this storm system itself is a testament to the knowledge shared by many in this field, as well as the amazing tools we are able to work with along the way. A 5 to 7 day lead time on a significant winters storm is something we should all collectively be proud of.
GEFS continue to signal development of progressive NAO blocking. Hemispheric evolution could support early March wintry threats in NE. pic.twitter.com/PJSUnOyqSy

— John Homenuk (@jhomenuk) February 24, 2017
However, there are lessons to be learned. While we can't speak for the community as a whole, our team will continue to take the time to analyze what went wrong with our forecast. There are ways to improve communication of risk and uncertainty, and we're working hard to improve every day. Our team takes pride in taking the time to explain the risk, uncertainty, and hazards in a weather forecast, and we will continue to work to perfect that craft.
As meteorologists, it is our job to bridge the gap in communication between our field and the general public. It is our job to communicate risk, to make sure uncertainty is fully understood, and to explain why those things exist in the atmospheric process. And it is our job to take this forecast as a lesson learned; to appreciate what we got right, analyze what we got wrong, and do our very best to be better next time.
We wanted to take the time to thank all of you who followed us, read our articles, supported our company, or interacted with our team over the past week — especially our clients and premium members. This has been one of the most rewarding weeks in our companies history to date and we are very thankful to have the opportunity to forecast the weather and follow our collective dreams in the field of meteorology. We can't wait to see what the next year has in store for us.
Comments
comments
https://www.nymetroweather.com/wp-content/uploads/2017/03/Screen-Shot-2017-03-15-at-10.33.26-AM.png
323
799
John Homenuk
https://www.nymetroweather.com/wp-content/uploads/2017/04/oldlogo.png
John Homenuk
2017-03-15 13:15:39
2017-03-15 13:09:03
Where did New York City's blizzard go?