Happy Tuesday evening! For the past several days, our forecasters have internally discussed (to members and clients) the potential for a significant severe weather event throughout the Northern Plains during the middle part of this week. On the periphery of a strong mid level ridge, forecast models and ensembles have been hinting for several days that impressively strong mid level winds will surge southward from Canada.
This may not sound overly significant initially, but the mid level winds strengthening along the northern periphery of a strong heat ridge can often be the first signal for significant severe weather potential. As these winds juxtapose with the presence of impressive instability and sometimes lift, severe thunderstorms can develop and quickly organize. This Wednesday will be the culmination of these ingredients. Lets break it down: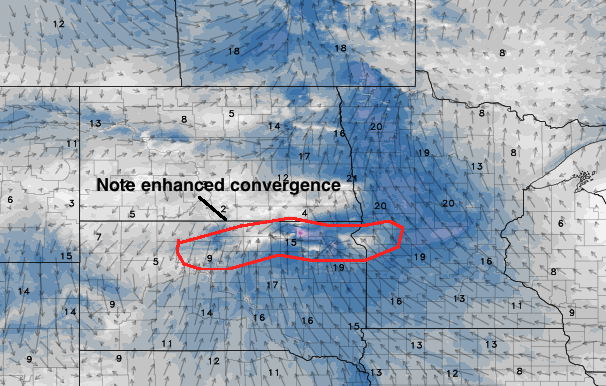 The severe thunderstorm threat is likely to develop during the mid to late afternoon, but will be modulated heavily by morning activity. As is so often the case with strong and severe thunderstorm events, the mesoscale events that unfold during the early morning of the threat day have a critical impact on the later developments. This will be the case on Wednesday as well. Forecast models are indicating remnant/decaying thunderstorms near a frontal boundary in parts of the Dakotas and Western Minnesota by the mid to late morning hours on Wednesday.
This frontal boundary, which is placed right along the fringe of the ridge axis, is critical for several reasons, but mostly because it will feature both a thermal (temperature) gradient and enhanced low level shear. This will serve as a potential "highway" for thunderstorm development later in the day, and the environment near and just south this boundary will quickly become unstable during the afternoon. Exactly where this sets up will be key to forecasters, local residents, emergency management, and storm chasers alike.
Along and south of this boundary, forecast model soundings indicate the presence of very unstable air by the mid to late afternoon hours. Increasing low level moisture is forecast to surge northward, in the presence of a very notable elevated mixed layer (mid level lapse rates 7.1-7.4 c/km across Eastern SD/Western MN by 18z). Meanwhile, mid level winds will begin to surge over the top of this instability, with the NAM indicating 500mb winds over 70knots by 21z in the same area, as a shortwave approaches. Finally, a 40+knot low level jet is forecast to develop, enhancing low level shear.
While I advise against getting caught up in the specific numbers being spit out by operational models at this range, it is important to note that this is an impressive parameter space for any time of year in any location. As such, the potential exists for significant, higher-end severe weather from the Eastern Dakotas into Western MN, with development likely during the middle afternoon hours as the noted lift begins to approach the boundary and impressive instability parameters.
Forecast soundings indicate favorable low and mid level wind profiles for rapid organization of discrete supercells upon initial development. The timing of the mid level jet will be critical here, as a rapid organization into an MCS could be possible, but current short term model guidance/CAM's indicate that discrete supercells will be possible for at least an hour or two initially, likely between 19-22z, along the low level boundary/convergence zone.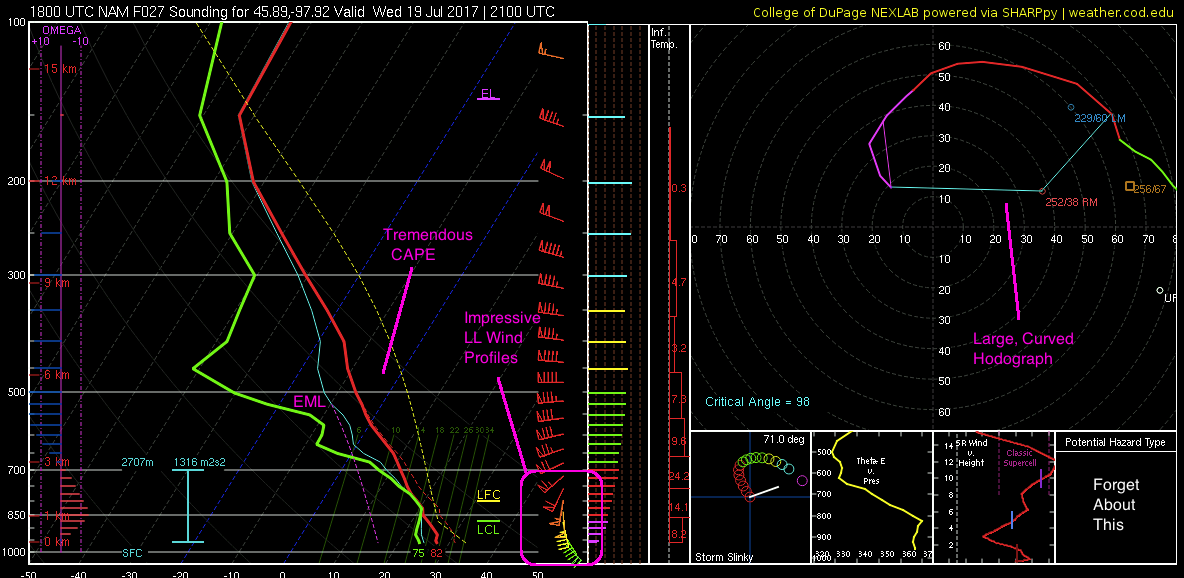 Hodographs are extremely impressive and low level shear profiles show the potential for tornadoes with one or two strong tornadoes. Given moisture and shear profiles these are likely to be HP supercells with rain-wrapping of mesocyclone's likely about 30-60 minutes after initial rotation. As mentioned, the  current feeling is that the best chance for a strong (EF2+) tornado will be near or just south of the low level boundary, as supercells begin to turn slightly southward along the northeastern periphery of strong instability with maximized effective/inflow shear. This area has been highlighted in the graphic below.
Thereafter, upscale growth into an MCS is likely, with a brief window of widespread severe wind potential across the Southeastern Dakotas and Western MN as storms begin to drop southward. Aided by the mentioned 70kt mid level jet and increasing low level jet, these storms will likely fall into Southwestern MN and possible parts of N/NW IA before they begin to at least marginally outrun the best kinematic environment for MCS maintenance.
By and large, Wednesday's severe weather potential looks like a locally higher-end event to me. While there are a few caveats as mentioned (morning activity, boundary positioning, upscale growth) confidence is reasonably high that initial supercell development will feature the potential for a few tornadoes and the possibility of a strong tornado in the highlighted area. Northeastern SD and Western MN seem like particularly notable targets for those with storm chasing interests.
While we won't be able to be there for this event for chasing purposes, we encourage you all to stay safe. If you live in the local region, stay weather aware and pay very close attention to NWS and local emergency management on Wednesday. Remember, seek shelter for any Severe Thunderstorm or Tornado Warning that is issued.
As a note, we hope you enjoyed reading this post. These posts are available every day to our clients and Premium Members, and will soon be available for registration as we expand our forecast services westward into the Central United States. To inquire about signing up for these products and to have forecasts and articles like this delivered to your inbox each day, give us a shout. 
Have a great night friends!
Comments
comments
https://www.nymetroweather.com/wp-content/uploads/2017/07/Screen-Shot-2017-07-18-at-5.55.06-PM.png
321
789
John Homenuk
https://www.nymetroweather.com/wp-content/uploads/2017/04/oldlogo.png
John Homenuk
2017-07-18 18:57:06
2017-07-18 19:00:06
Significant severe weather possible in Northern Plains on Wednesday