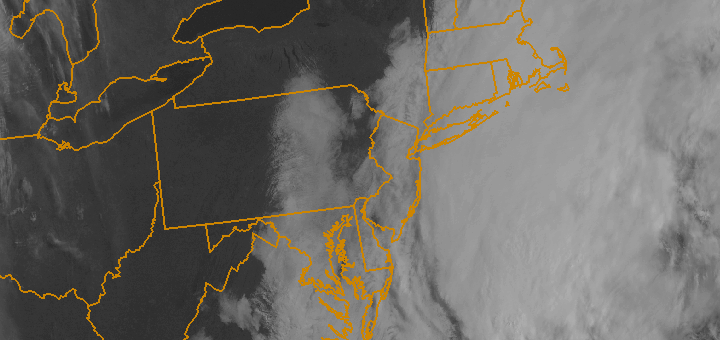 A weak storm system off the Mid-Atlantic coast will shift northward Tuesday afternoon, eventually hooking northwest a bit towards Cape Cod and the Gulf of Maine by Wednesday. Although steady rain should avoid the area for the most part, forecast models agree that clouds and drizzle will be in the forecast for Tuesday especially across eastern portions of the forecast area. Along the shore and on Long Island, periods of drizzle are possible throughout the day into Tuesday Night. The clouds will stick around through the evening for most of the area — with northeast winds keeping the air feeling damp and cool. High temperatures will run a few degrees below seasonable averages.
Warmer air is on the way, however brief, on Wednesday. As the weak storm system lifts north and east of our area, winds will briefly turn southerly and temperatures in the mid levels of the atmosphere will warm. With a cold front still lingering back to our west, high temperatures should approach the upper 60's to lower 70's especially in New York City and New Jersey. As usual for this time of year, southerly winds off the cool ocean waters will keep the coast several degrees cooler. A cold front, with showers and isolated thunderstorms, will move through the area by Wednesday evening — bringing back some cooler air once again.
Today (Tuesday): Mostly cloudy, damp, and relatively cool. Highs in the mid 50's. Northeast winds 10 to 15 miles per hour. A chance of drizzle or showers, especially near the coast.
Tonight: Mostly cloudy. Lows in the mid 40's. A chance of showers or drizzle, especially near the coast.
Wednesday: Partly cloudy and warmer. Highs in the upper 60's to lower 70's. Warmer in New Jersey, cooler near the coast. A 40% chance of showers and thunderstorms late. Southwest winds around 15 miles per hour.
Wednesday Night: A chance of showers and thunderstorms, then becoming partly cloudy. Southwest winds turning west-northwest around 15 miles per hour.
Comments
comments
https://www.nymetroweather.com/wp-content/uploads/2013/04/vis_april23.png
340
720
John Homenuk
https://www.nymetroweather.com/wp-content/uploads/2017/04/oldlogo.png
John Homenuk
2013-04-23 10:03:49
2013-04-23 17:52:15
Dreary Tuesday, brief warmth follows