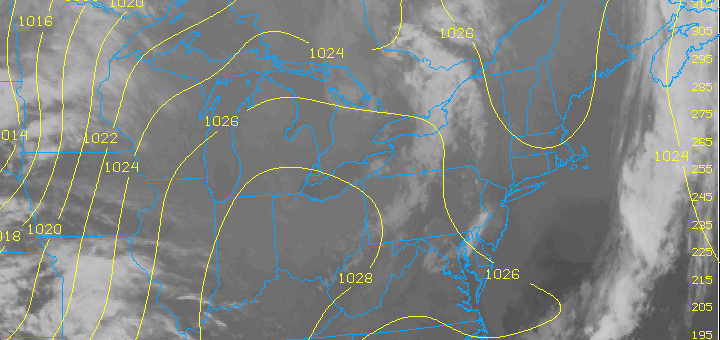 For once, we have actually had sustained spring-like weather, as opposed to jumping rapidly from winter to summer, like we have in past years. This trend should continue today and through the weekend, as the entire area will experience sunny skies and temperatures into the 60s, and maybe hitting 70 in warmer inland locations this weekend. There is no threat of precipitation for the next several days.
The 1028mb high pressure system to our southwest will initially provide northerly winds for the morning hours, as clockwise flow around the high in the Ohio Valley yields northerly winds. However, once the high pressure moves eastward, the same clockwise flow around that high will instead yield westerly winds as we approach the afternoon hours. This will allow for a dry, downsloping flow, keeping skies clear, as downsloping yields sinking motion and thus no lift for clouds. The westerly winds will also help to keep the seabreeze to a minimum, so coastal locations will also get into the 60s and stay there for the whole afternoon. This bodes well for people who enjoy going to the beach during the sunset.
As we head into Saturday, that high pressure will continue to move eastward, so that the clockwise flow around it will actually help to turn the winds towards the southwest as the afternoon progresses. This will help warm many areas from NYC and westward to readings near 70. Coastal regions will also have a nice initial burst of warmth, but later in the afternoon once the southwest flow becomes more prevalent, the seabreeze and onshore flow will be allowed to have a bit more of an influence, thus cooling temperatures on Long Island in the late afternoon hours. Fortunately, the initial warmth should prevent the cooling temperatures from meeting their dewpoint, thus eliminating the fog threat that ruined the afternoon for coastal sections on Wednesday.
Sunday should expect much of the same conditions as we had on Saturday, except for the fact that the winds might be more due southerly, perhaps increasing cloudiness and knocking down temperatures into the upper 50s for coastal regions in the afternoon hours with the marine layer threat. Other than this possibility for coastal sections, all locations west of NYC should hit the 70 degree mark and perhaps exceed it.
Today: Sunny with a high near 65. Light northerly winds will shift to the west between 5-10mph.
Tonight: Clear skies with a low around 45 and light west-northwest winds between 5-10mph.
Saturday: Sunny with a high near 71. Light west and northwest winds will shift to the southwest during the afternoon.
Sunday: Partly sunny with a high near 68 and light southerly winds.
Comments
comments
https://www.nymetroweather.com/wp-content/uploads/2013/04/april26.png
340
720
Doug Simonian
https://www.nymetroweather.com/wp-content/uploads/2017/04/oldlogo.png
Doug Simonian
2013-04-26 10:00:58
2013-04-26 01:58:17
Pleasant weather through the weekend