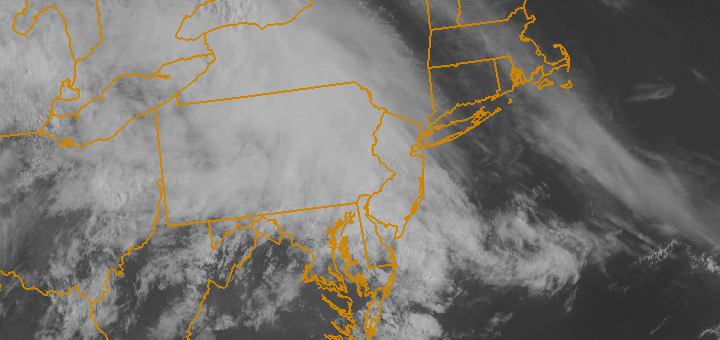 Warm fronts can be pretty deceiving. Depending on the positioning of the front at the surface, and the amount of warm air that looms behind the front, conditions can seem fairly raw and damp near and ahead it. Much of the same is true in our area today, as east winds ahead of a surface warm front to our south along with a weak low pressure system riding along the front itself will provide cooler conditions and periods of rain.
Waiting behind the front, which will pass the area early Wednesday, is a surge of warm air. Temperatures at the 850mb level will rise from around 8-9 C Tuesday morning, to 15-16 C by Wednesday — and even warmer on Thursday. At the surface, highs in the 60's on Tuesday with clouds will rapidly rise into the upper 80's and lower 90's later this week. In addition, a westerly wind component should help the warmth get all the way to the coast — and limit the inland extent of the seabreeze.
Showers and storms, however, will linger through Wednesday before the heat arrives. In fact, the Storm Prediction Center suggests a small chance (5-15%) of a severe thunderstorm in the area as the warm front passes on Wednesday. Stay tuned for further updates. Their probabilistic outlook, shown below, suggests the best chance for severe thunderstorms will be farther north — where the warm front will be Wednesday afternoon. A slight chance of storms capable of producing gusty winds exists as far south as New Jersey.
Stay tuned for further updates on not only the potential for storms, but the impending warmup and warm frontal passage on Wednesday. You can follow our social media accounts on Facebook and Twitter for more frequent updates and posts throughout each day.
Comments
comments
https://www.nymetroweather.com/wp-content/uploads/2013/05/vissat_may28.png
340
720
John Homenuk
https://www.nymetroweather.com/wp-content/uploads/2017/04/oldlogo.png
John Homenuk
2013-05-28 11:09:28
2013-05-28 11:09:28
Damp Tuesday, but big warmup en route