Hello friends! As always, we hope this post finds you well, and we're grateful that you've taken the time to read it. We're reaching out to all of our readers and existing clients today to make you aware of a change to our company which we believe everybody will be excited about.
Over the past several months, we have taken some time to mull over the way we deliver our forecasts. Our number one priority has always been getting the forecast right, and doing so by communicating to the best of our ability. A close second priority has, and will continue to be, forecasting in a way where we bridge the gap in our readers understanding of the atmosphere. In other words, our forecasts are specifically designed and tailored not just to deliver information, but to elaborate on why things are happening, how they are happening, and what our concerns and uncertainties are.
In the process of mulling over how we deliver our forecasts, we have experimented with several new products and adjusted our product tiers several times. While we are very proud of all we have accomplished as a team, there is one thing that we all agreed upon after our several months of consideration:
We want to get back to basics. 
Since the beginning, our company has offered plenty of content publicly, with the option to get more detailed information through Premium Membership, where we provide detailed and technical discussions and videos. Some of our closest business relationships have come from our Premium Consulting clients, where we offer daily briefings and 24/7 support. And our new expansion has allowed us to create many new friendships and opportunities in the Long Range and Agriculture sector, where we provide daily briefings, live blogs, and videos.
These three tiers, along with our consistent public discussions, are the backbone of our company. And so effective today, we are permanently combining all of our products into these three tiers. All existing clients will benefit by gaining products, and all new potential members and clients will have the benefit of seeing more products bundled into each tier.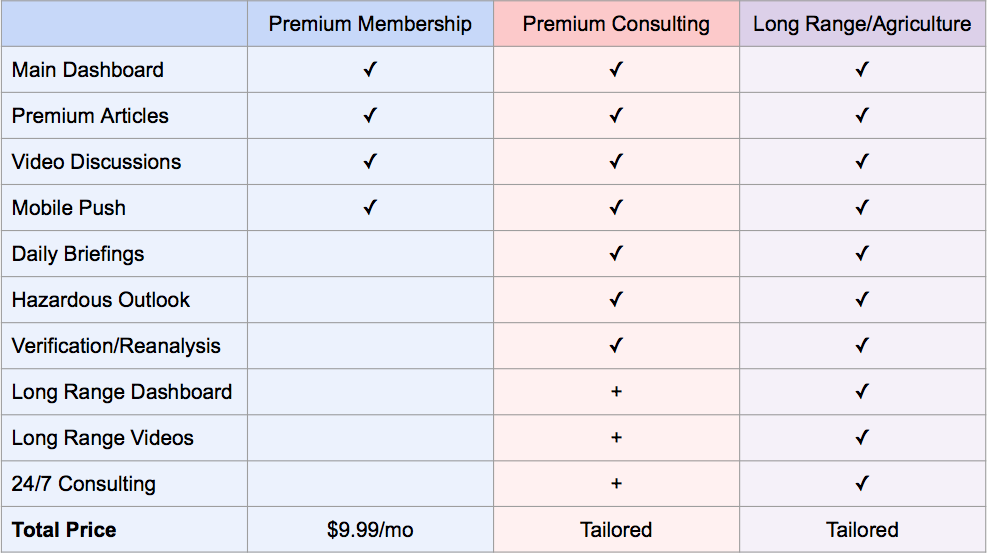 In addition to this simplified structure, we will be offering our Premium Membership at $9.99 per month, permanently. This will include the Premium Dashboard, Technical Discussions, Videos, Live Blogs, Zone Forecasts, and mobile push of text alerts. We believe strongly in the fact that this weather information should be easily accessible for all. Our Commercial Consulting and Long Range/Agriculture packages will still be available at an additional cost (dependent on locations, services provided, etc).
Over the next few months, we will be announcing some more significant changes to the structure of our company. New York Metro Weather has brought our team of forecasters together, which we are extremely grateful for, but the best is yet to come for our group  — and we couldn't be more excited for the things we are planning and working on. We can't wait to share it with you all.
If you've gotten to this point of the post, thank you for taking the time to read our message. We are so grateful for all of the strides we have taken as a company, we can't wait for what is ahead, and we hope you will join us for the ride. If you have questions, or you'd like to sign up, simply use the menu at the top of the page to browse to your tier. Or give us a shout, and we will help you get set up.
All the best,
The Forecasting Team
(John, Doug, Miguel and Steve)
Comments
comments
https://www.nymetroweather.com/wp-content/uploads/2017/04/oldlogo.png
0
0
John Homenuk
https://www.nymetroweather.com/wp-content/uploads/2017/04/oldlogo.png
John Homenuk
2017-07-26 22:04:21
2017-07-26 22:04:21
We're changing the way our products are structured