The seasons first burst near-dangerous level heat is likely to arrive rapidly by Wednesday afternoon throughout the forecast area. A ridge in the mid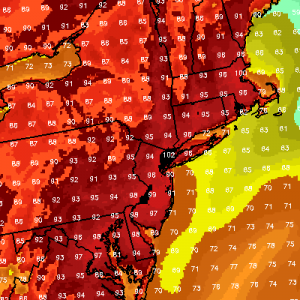 and upper levels of the atmosphere is expected to rapidly build beginning Tuesday, beginning the advection of the warmest air the area has seen so far this season.  Tuesday will likely end up near average with high temperatures ending up in the mid 80's, ending a streak of normal to slightly-below normal temperatures which began almost a week ago. By Wednesday, the playing field will be completely change as the pattern will re-adjust setting the stage for big heat. High temperatures on Wednesday are expected to rise into the mid to upper 90's throughout most of the area, with the potential for a few near-100 degree readings in New Jersey. With low temperatures in the upper 70's to near 80 Wednesday Night into Thursday, temperatures will be off to a fast start once again. Highs on Thursday could reach the upper 90's to near 100 in more than a few locations. Although it will, of course, be cooler near the shore…a big sea-breeze is not expected. West winds off the hot and dry land to our west will end the threat for the ocean-influence away from Eastern Long Island.
The National Weather Service has issued Excessive Heat Warnings for parts of New Jersey (likely to include NYC by Tuesday evening). The aforementioned heat, coupled with dew points in the 60's will lead to Heat Index values over 100 in many spots during hte afternoon hours on both Wednesday and Thursday, which are near-dangerous levels. Remember, strenuous outdoor activities or prolonged exposure to the sun without hydration in such temperatures can lead to heat-stroke. Plan ahead and plan carefully — but most all, if you can, enjoy the beautiful summer weather which is on the way. Summer officially begins this Wednesday June 20th, 2012 during the summer solstice, which occurs at 7:09pm.
https://www.nymetroweather.com/wp-content/uploads/2017/04/oldlogo.png
0
0
John Homenuk
https://www.nymetroweather.com/wp-content/uploads/2017/04/oldlogo.png
John Homenuk
2012-06-18 23:55:14
2012-06-18 23:55:14
Surge of big heat will kick off Summer 2012