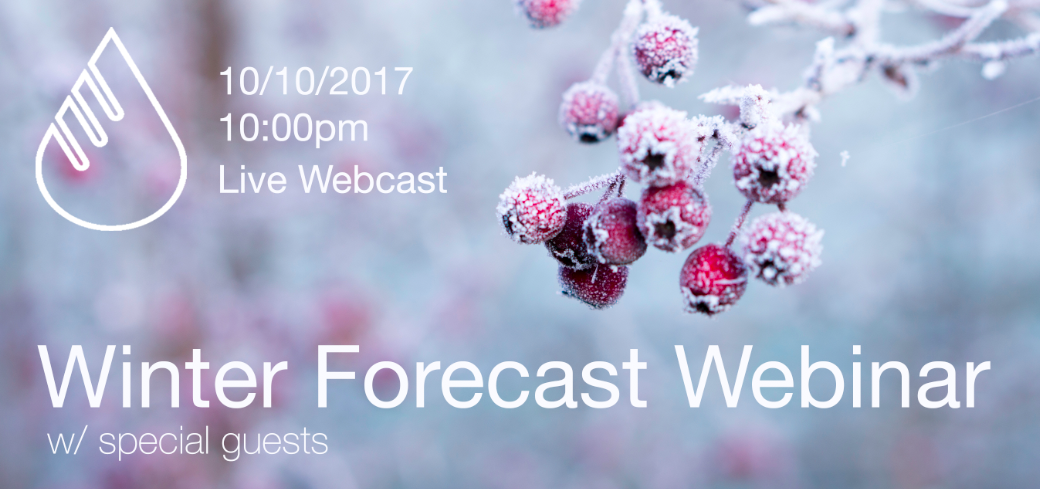 When: October 10th, 2017 at 10:00pm Where: Right here (details will follow) What: Winter Forecast Seminar
We are excited to announce our first ever Winter Forecast Seminar, which will be broadcast live to the public on October 10th, 2017 at 10:00pm. Since 2010, our team has released a public winter forecast on the first week of November. These forecasts have always been met with positive feedback and great discussion. This year, we're upping the ante on the discussion as the winter forecast comes together.
Our goal has always been to increase transparency and understanding of how weather forecasting works. This Winter Forecast Seminar is just the beginning of our brand new effort to do just that, which will come to life over the next few weeks.
Join us on October 10th, in partnership with 33andrain.com, as we discuss the key pieces that go into a winter forecast, and detail which aspects will be most important over the coming months. Stay tuned for further details in regards to our special guests, which will be announced soon.
Sign up is now open for the 2017-2018 Winter Weather Seminar Webcast and can be completed below. You must sign up below to receive the link prior to the show. We look forward to seeing you there!